The Duke and Duchess of Cambridge were met with cheering fans as they came to Sunderland to visit on Wednesday (21 February) to officially open the Northern Spire bridge. While in Sunderland, they made a quick detour to the new Fire Station in Sunderland City Centre.
Many fans turned up to see the royal couple, including 23-year-old Helena Pascenko, Vice President of University of Sunderland Student's Union. She described the atmosphere as the couple arrived: 
"The weather was welcoming, masses of local citizens, families and children, elderly and students, everyone came together to celebrate the special day. Flags sparking in the sunshine, people holding flowers and posters saying 'Welcome Kate and William', people smiling and cheering. All this felt so special, emotional and thrilling."
 Originally from Lithuania, Helena has lived in Sunderland for five years and felt as a duty to the community and the Student Union to greet the Royal pair, especially to two iconic locations.
"Both Fire Station and the Northern Spire opening are very important events for the local community as these are the changes that are bringing positive impact both for local citizens as well as to the North East in total. Every positive step forward in the society is definitely a noteworthy event to be celebrating together and as The Duchess of Cambridge and Prince William were happy to share this moments with us, me as a local resident and I believe as many others felt it was very important to greet royal family and celebrate this moment together."
She told SRNews, about the moment of how she felt when among a few, Kate spoke to her for a few minutes:
 "I was very nervous at first, but when she approached me, with her smiling face and welcoming greetings, talking to her felt wonderful and so normal!"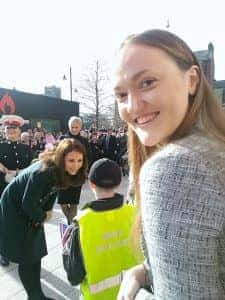 Art director of the Fire Station, Helen Green, also commented on the royals visit to Sunderland and how surprising It was they wanted to visit the cultural hub:
"The royals us and asked if they could come and visit the Fire Station whilst they were in the city, officially opening the Northern Spire."
Helen, originally from Manchester has lived in the North East now for a number of years, also commented on how the Duke and Duchess's visit can potentially make Sunderland better known in the country.
"With the city bid, the Tall Ships coming soon and now the Royal visit, Sunderland can gain some attention from the country and get more tourists."