A mother has asked for Sleeping Beauty to be removed from younger children's classes at her son's primary school as it promotes "inappropriate" sexual behaviour. Sarah Hall, from Northumberland Park, raised the issue after her six-year-old brought home a book version of the fairytale.
Sarah was worried about the message that the story, where a Prince kisses Sleeping Beauty to wake her from her curse, sent to younger children. She left a comment in her son's book and contacted the school to ask if books featuring it could be taken out of circulation for younger classes.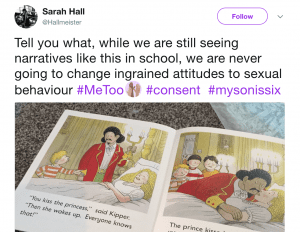 The 40-year-old said she firstly decided to take action because of the coverage of recent sexual harassment scandals. When tweeting about the book she used the #MeToo hashtag, which thousands of people have used to share their experiences of sexual harassment in the wake of the Harvey Weinstein scandal.
The tweet in question caused quite the debate on social media and went viral almost instantly with thousands of people sharing their opinions on the matter. Sarah has since said that she that she won't comment any further on the matter because of the abuse and threats she has received since the tweet went viral.
Our investigation looks at what different people and experts in society think about the matter – is this just an over-sensitive parent or are fairytales giving off the wrong messages to children?