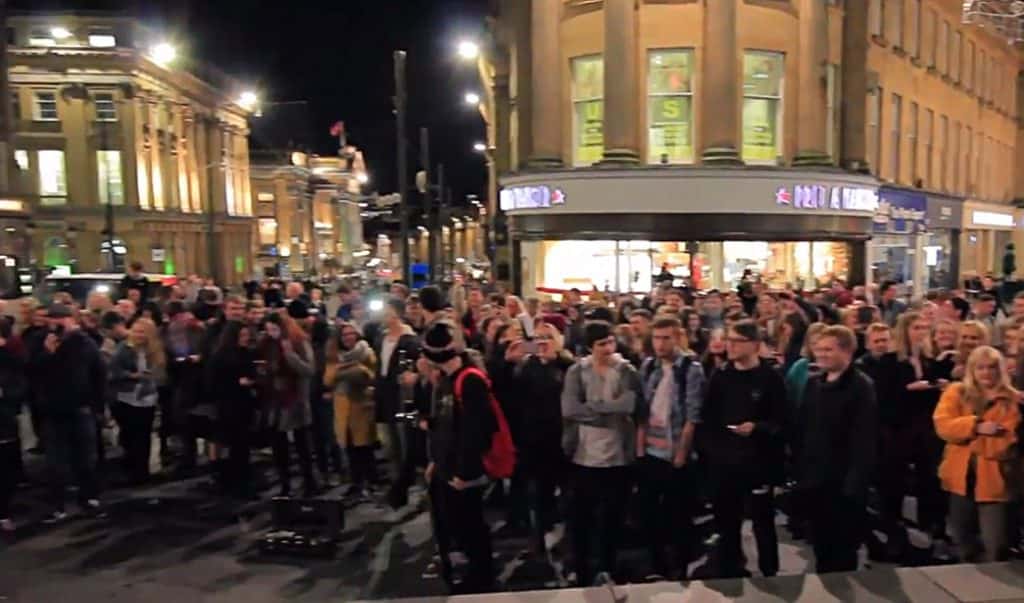 Image courtesy of DW Media / Youtube
IF YOU missed the mass sing-a-long at Newcastle's Monument on October 27, your singing days may not be over just yet!
Following the huge Geordie rendition of the early 1980s hit Africa by rock band Toto, Chris McCarthy, the man who made it happen, said: "Give me a time and a place and I would do it again."
The Newcastle College student helped hundreds of people gather in the heart of Newcastle to belt out the classic, after the original event had to be cancelled due to health and safety concerns.
The event that was first organised by Northumbria University student, Chris Atkins "for a laugh" attracted the attention of thousands within hours of the event being posted on Facebook. But when a multi-agency safety advisory group got wind of the action, it looked set to be a wash-out.
Just days before the event was due to take place, Atkins took the advice of Newcastle City Council and Northumbria Police and cancelled the gathering, after fears he could get into trouble with the police. In an apologetic post on the Facebook page, he wrote: "Due to the overwhelming response and publicity the event is getting, I've been told by the council and police that the event sadly can't happen on their property without being properly organised in terms of stuff like risk assessments, insurance and other forms and fees."
 A spokesman for Newcastle City Council said: "Considerable planning is required to ensure that public safety is maintained. In respect of this event we could not guarantee the safety of those attending and on that basis advised the organiser to cancel the event. This was also to protect him in the event of public liability."
McCarthy was among the thousands disappointed by the cancellation and decided to take matters into his own hands.  He immediately created a new Facebook event "Singing Africa by Toto – we will continue, no matter what" and encouraged people to share the event with friends.
Although authorities tried to stop the event on the night, McCarthy managed to persuade police to let the event go ahead with officers present and assuring them the event was safe.
After the success of the mass sing-a-long, McCarthy said he would happily organise another event and has already had people asking him to consider a charity sing-a-long.
Could Newcastle host the next Band Aid?