THE North East has always been a prominent feature in music, producing the likes of Sting and the vocalist of legendary rock band AC/DC Brian Johnson, and it's not let their reputation drop in the slightest!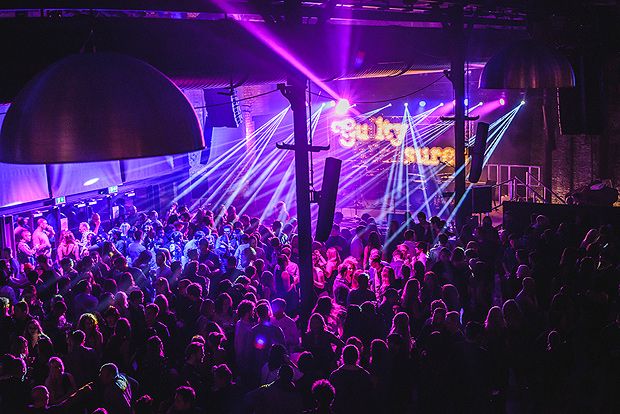 You are spoilt for choice when it comes to places to see and hear live music with a fantastic line-up of venues, so we have compiled a list of some of the most vibrant in the area that are must visits after lockdown! Take a look below:
8. The Cluny
In the Ouseburn Valley area of Newcastle lies The Cluny, a pub and café that hosts great live music. The venue is a regular fixture in the Top 100 list of Worlds Best Bars, and is the only pub in Newcastle that makes the list.
The bar is renowned for its huge selection of real ales and lagers, and strives to use local breweries wherever possible. Described as "one of the most important venues for breaking bands in the region", The Cluny has had some notable acts play the venue in recent years including The Vaccines, Mumford and Sons, the Futureheads and We Are Scientists.
Check out garage rock group Spring King playing at the Cluny below!
View this post on Instagram
The Cluny
36 Lime Street
Ouseburn
Newcastle upon Tyne
NE1 2PQ
0191 230 4474
7. The Riverside
One of Newcastle's most iconic live music venues, located in the Grade II listed building Neptune House on the historic Quayside, is the Riverside. The venue has a long legacy of hosting a diverse range of world class acts including past performances from Royal Blood, The Zombies and The Fall to name a few.
The venue recently underwent refurbishment in 2017 and now boasts new lighting and acoustic sound systems and in recent years it has become a celebrated nightspot known for its unbeatable atmosphere and affordable drinks.
Here's a clip of AC/DC tribute band Live/Wire- The AC/DC Show rocking out at The Riverside! (15:51-19:16).
Riverside NCL
Neptune House
1 The Close
Newcastle Upon Tyne
NE1 3RQ
6. Trillians Rock Bar
Trillians is a cellar bar hidden away in Princess Square, opposite Newcastle's main library. It is famed for it's great, friendly atmosphere and regularly hosts live gigs throughout the year mainly playing rock and metal music.
It's well worth a visit as it's always bustling and electric when it's gig night!
Here's a clip of metal band Fist at Trillians in 2020!
Trillians Rock Bar
3 Princess Square
Newcastle Upon Tyne
NE1 8ER
5. Think Tank?
A music venue located right next to the Centre for Life in Times Square Newcastle is "Think Tank?", an iconic upcoming space that has played host to many different genres and legends of the music industry including the 1975, Jake Bugg and the Charlatans.
It has been rated as the 11th Best Club in the World and the Best in the UK recently and it is definitely worth a visit!
Here's artist Jessarae playing his song Milk and Honey below!
Times Square
Newcastle upon Tyne
NE1 4EP
4. The Boiler Shop
The Boiler Shop is still relatively young and in that 'discovering themselves' stage. They're hard to define, calling themselves boho and hip and hosting everything from corporate, arts and cultural events but it's guaranteed that they host some great gigs!
The calendar here is always full of local bands and musicians so if that's your thing and you want to support local music, this is the place to be!
Check out Sam Fender at the HMV Live Album Launch Party for Hypersonic Missiles below!
20 South Street
Newcastle upon Tyne
NE1 3PE
3. Wylam Brewery
Wylam Brewery sits in the picturesque scenery of the Palace of Arts in Exhibition Park, operating a 30-barrel microbrewery and venue where they serve up the freshest Wylam beers on keg and cask in always a great atmosphere.
The brewery hosts regular gigs in the Grand Hall and is definitely a unique venue which is a must visit after lockdown!
Here's Brian Fallon playing at the Wylam Brewery in February 2019!
Wylam Brewery
Palace of Arts
Exhibition Park
Newcastle upon Tyne
Tyne & Wear
NE2 4PZ
2. Jumping Jacks
One of the freshest live music venues on the Newcastle scene is Jumping Jacks on Clayton Street, sitting right above the famous bar The Dog and Parrot not far from Newcastle Central Station.
Known by locals as JJ's, their intimate, lively gig space hosts some of the very best in local up and coming live acts.
They've got everything from real ale to cocktails as well as a fantastic modern sound system . There's always something on here and it's definitely a place to have a night out at in Newcastle soon!
Here's Three Kings High's set at Jumping Jacks in April 2017!
52 Clayton Street West
Newcastle-upon-Tyne
NE1 4EX
1. Head of Steam
Also right across from Newcastle Central Station is The Head of Steam. It has gained notoriety for hosting the best in up-to-the-minute music and is constantly recognised as being one of the best bars in the city combining both the bars welcoming atmosphere and excellent regular gigs.
The venue has proved a popular breeding ground for talent including appearances from bands including the Arctic Monkeys, Maximo Park and The Futureheads early in their careers.
Here's New York rock band State Champs at Head of Steam in June 2019!
View this post on Instagram
2 Neville St,
Newcastle upon Tyne
NE1 5EN