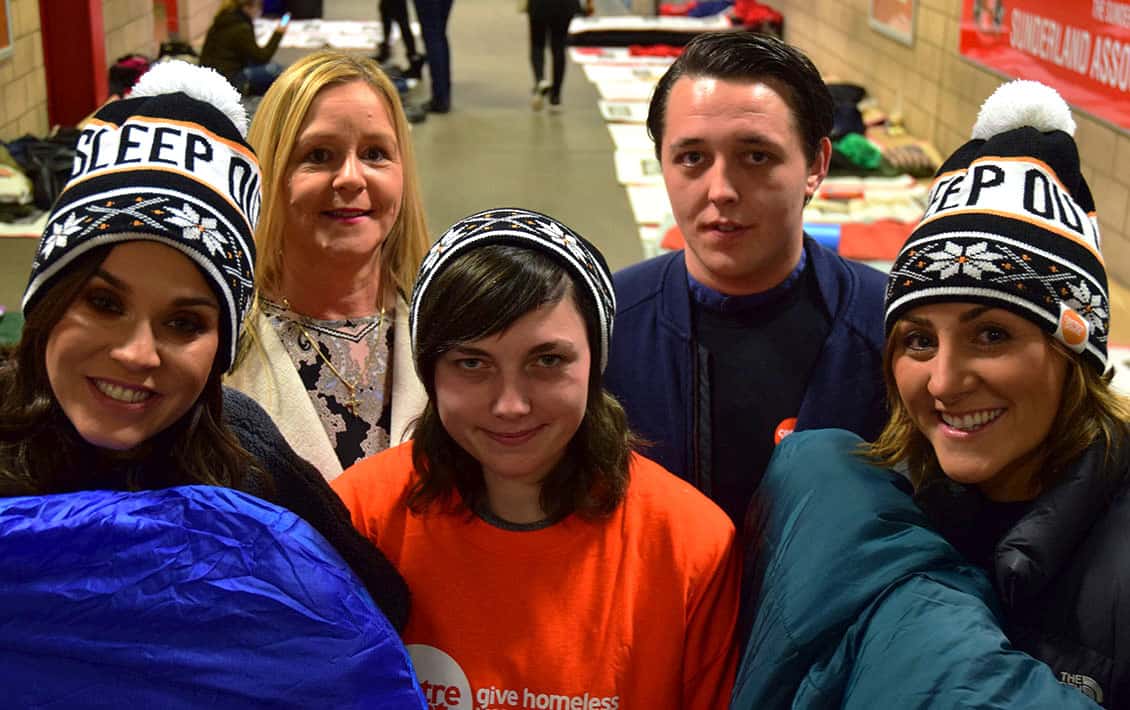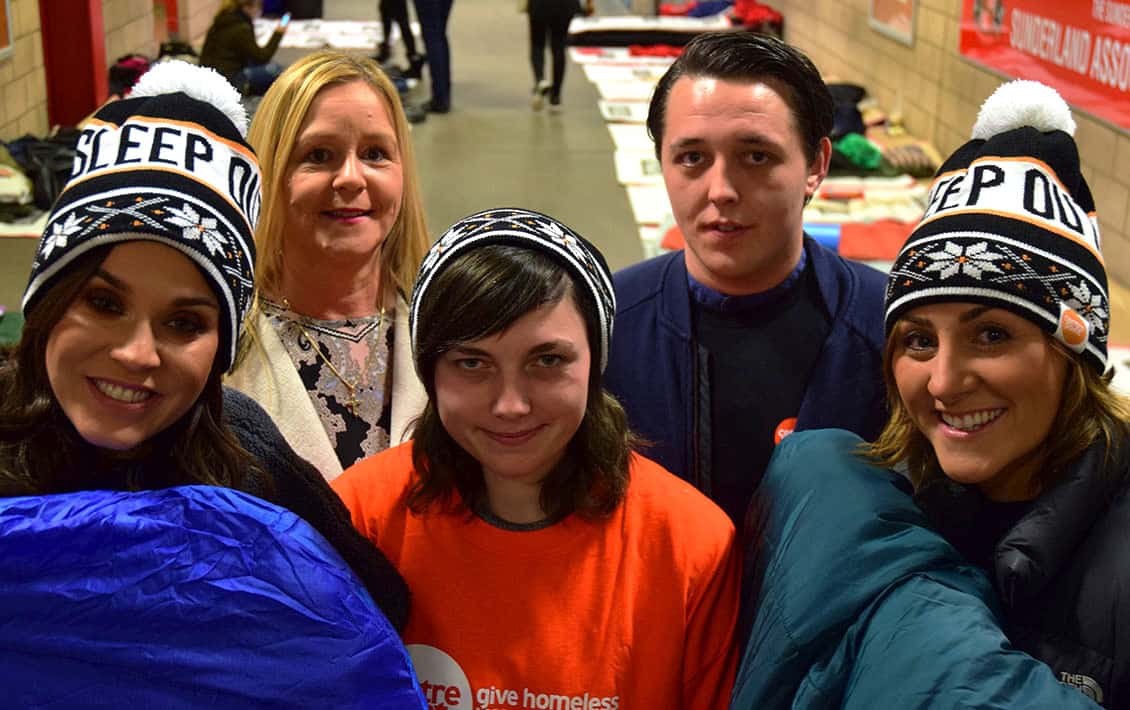 Sunderland sleepout: From L-R: Vicky Pattison, Sally Orlopp, director of people, skills and employment at Centrepoint, Zinnia Young, Kyle Walker and Sunderland fitness entrepreneur Katie Bulmer-Cooke at the Stadium of Light in Sunderland on November 2, 2017. Photo by Martin Simm.One hundred people slept out at the Stadium of Light last night (Thursday, November 2) to raise awareness of youth homelessness.
Vicky Pattison and Katie Bulmer-Cooke joined volunteers, sponsors and staff from Centrepoint and swapped their beds for a sleeping bag at the Sunderland venue.
The annual event raises money for Centrepoint – a charity that supports young people in UK, who are facing homelessness.
Geordie Shore and I'm a Celeb star Vicky Pattison said: "I think there are a lot of different reasons why people can end up down on their luck or homeless. I don't judge them and I don't think anyone should."
She added: "We should be talking about this, we should be working out how people got there, we should be stopping it from happening and help the people get back on their feet as well, so the more anybody can raise awareness, the more anyone can do to help fundraise, the better it is."
Sunderland fitness entrepreneur Katie Bulmer-Cooke, who starred on The Apprentice in 2014, also took part in the sleepout.
She said: "I think events like this are really important as it gives people an insight into what other people unfortunately face on a daily basis. The work that Centrepoint does is a fantastic platform to help people get back on their feet, somewhere they can call home and better prospects for the future.
"On a personal level I think that the work Centrepoint does in Sunderland, in my city, is fantastic and if I can help support that even just a small amount I think that's a good thing to do."
Young people who had been helped by Centrepoint were also at the event.


Sunderland-born Kyle Walker experienced homelessness from the age of 13.
A family breakdown led to the 23 year old sleeping on a park bench. From there he began living with friends and family on sofas for three years on and off.
At 16, Mr Walker found Centrepoint and after a short stay moved back with his parents. After another family breakdown at the age of 18, he found himself being supported by the charity again.
He now has a place of his own in Newcastle and volunteers with the organisation.
"The reason I volunteer with Centrepoint is to give back and to show that there are organisations out there that do support young people," he said.
Centrepoint helps young people aged 16-25 who are homeless by providing accommodation, health support and life skills to get them back into education, training and employment.
Sally Orlopp, director of people, skills and employability at Centrepoint, said: "It is about getting the message out about ending youth homelessness and really making sure we make the public aware of it. On the back of that we use this as a fundraising event as well.
"[Youth homelessness] is a massive issue. It's difficult to think that in 2017 – the size of the problem of youth homelessness nationally and it's actually appalling that we're in 2017 and we have such a problem. It's as much a problem in the North East as anywhere else. I definitely think there is a stigma. There are no two young people the same."
"The work we do at Centrepoint is absolutely about trying to remove the stigma and [to] try and get people to understand why young people are homeless – and that can be for a variety of reasons. It is genuinely that you are one step away from it yourself."
The North East sleepout is part of fourteen events held nationally.
If you are at risk of being homeless or are sleeping rough contact the Centrepoint helpline free on 0808 800 0661 (Monday to Friday, 9am to 5pm) or visit the website.