A North East academic has been honoured by a Cambridge university for his work to reduce urban violence in Kenya.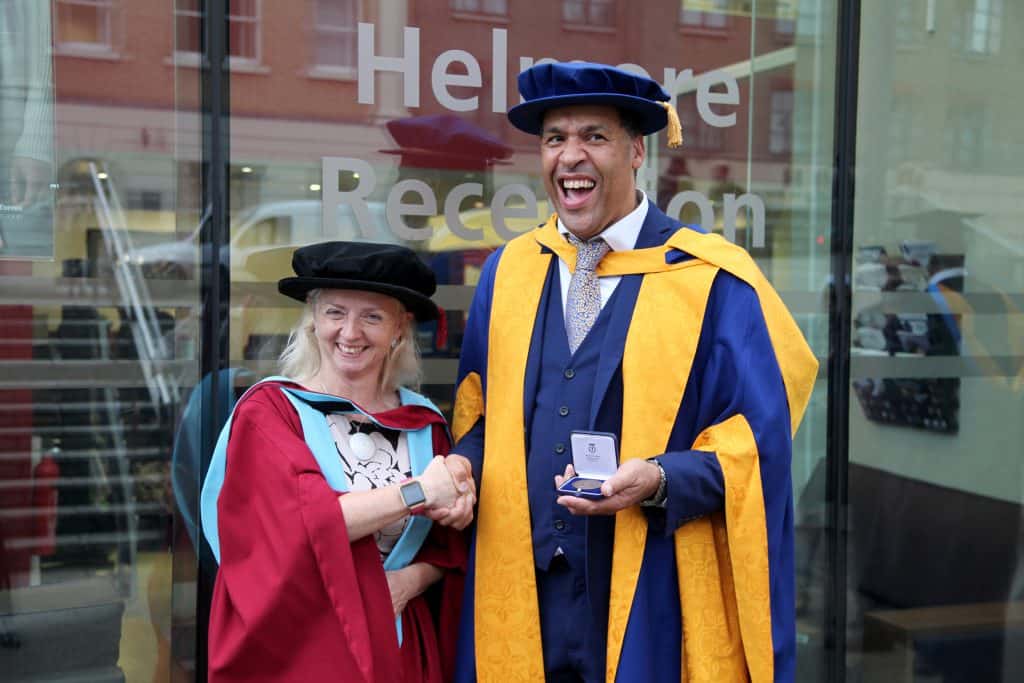 Dr Rob Worrall, who graduated with a PhD from Anglia Ruskin University is a Principal Lecturer at the University of Sunderland, received the 2017 Ruskin Medal.
Dr Worrall's innovative pilot programme, Place-Based Transformational Leadership Development was introduced in Nakuru and Naivasha Municipalities in Kenya, two communities that had been blighted by violence, corruption and poverty.
The programme is based on his doctoral research at Anglia Ruskin and empowers leaders in the community to work with police, civil society, local government and the private sector to identify tensions and dilemmas within the communities and find peaceful resolutions, bring stability and protect human rights.
The project has been supported by the MidRift Human Rights Network in Kenya, and DIGNITY – The Danish Institute Against Torture – along with the University of Sunderland. Pilots are planned to run in Uganda and Guatemala in 2018.
The Ruskin Medal is awarded to the postgraduate degree holders whose research is deemed to have had the most impact on the economy, society, culture, public policy or services, health, the environment, or quality of life.
Dr Worrall said: "I am really honoured to receive the Ruskin Medal. The growing impact of applying my PhD research to build collective leadership capability to support intersectoral urban violence prevention is testament to the strong and effective collaborative approach between the partners.
"We are starting to make a real difference in enabling leaders to work more effectively together, increasingly open to others perspectives and the fruits of collective action to make their communities feel safer in their everyday lives.
"I am really proud that lessons from the work in Naivasha and Nakuru are currently being shared at knowledge sharing and capacity building seminars with partners developing programmes in Uganda and Guatemala.
"I am thankful to Anglia Ruskin for enabling me to embark on my doctoral research and feel that the investment in my potential has started to bear fruit."
Dr Alan White, Director of the Doctoral School at Anglia Ruskin University, said: "The panel was extremely impressed with Dr Worrall's application. The research on localised approaches for delivering effective public services to tackle social problems is having a real and positive impact on the leadership capability of key social actors in Nakuru County, Kenya.
"There are now plans to implement the insights from Rob's research in the UK via NHS Sustainability and Transformation Plans."