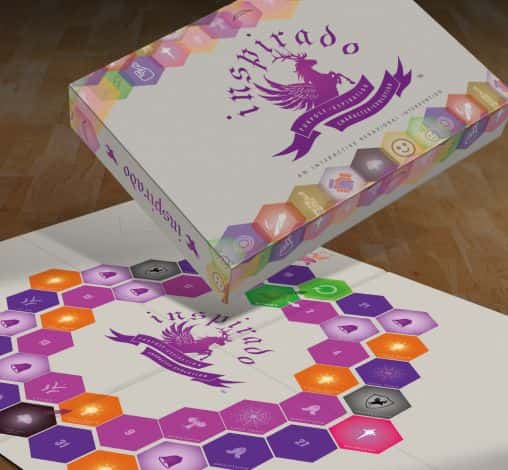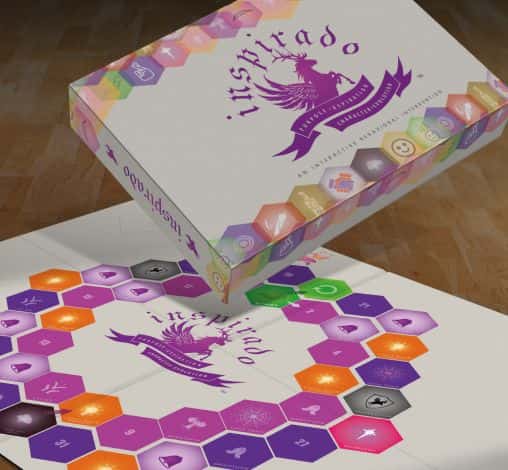 A Sunderland graduate who has dedicated his career to supporting those living with addiction, has created one of the first board games that incorporates all the major elements of behaviour change that navigates the road to recovery from substance misuse.
Since studying for a Master's degree in Public Health at the University of Sunderland in 2010, Joojo Kyei-Sarpong has spent the past seven years working with individuals in recovery across the region's local pharmacies, recovery centres, rehabilitation and homeless hostels.
Fuelled by a passion to support individuals with addiction, as well as the loss of a friend through a drug overdose, Joojo decided to pursue a career as a substance misuse practitioner. And it was during the degree that Joojo's idea to create a resource that supports group therapy in substance misuse treatment, combined his passion for graphic design, which led to the board game, Inspirado.
Inspirado is an interactive intervention programme designed to build recovery from substance misuse, raise awareness, reduce stigma and break down boundaries to accessing support for substance misuse treatment and mental health.
So far it has received a positive response at all its play-testing sessions with recovery professionals, people in recovery and board game enthusiasts, with over 75 per cent of participants finding it beneficial and giving favourable feedback about the flow and playability of the game.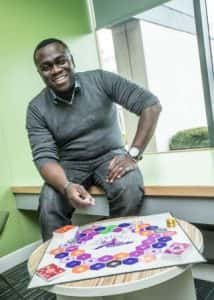 Ghanaian-born Joojo, 35, explained: "With a health degree and self-taught graphic design skills, my approach to coaching has always been illustrative and compassionate, using everyday examples to help clients understand behaviour change. I am passionate about supporting and coaching clients to achieve their recovery goals. The bedrock of this profession is care.
"This led me to further research into the effectiveness of health promotional materials within the City of Sunderland, making health information accessible, attractive, and easy to understand and engaging. This motivated me to create the game as an intervention, with the potential to be a resource for substance misuse treatment services as well as rehabs, correctional facilities, schools, colleges, homeless hostels, recovery cafés and many more."
Players of the game begin their journey as a caterpillar, to eventually finish as a butterfly. The journey is navigated through a series of event tiles on the boat in which 'moral chips' can be rewarded, which serve as recovery capital or learned skills. Players respond to the alert tiles with each play through behaviour cards and inspirational cards.
Dr Catherine Hayes, Former Programme Leader for the MSc Public Health, says: "Joojo is a prime example of how students of the MSc Public Health here at Sunderland use what they have learned to make a tangible civic impact at a regional, national and global level.
"He has dedicated his professional life since completing the programme to the empowerment of those living with addiction. He has done this with a degree of empathy and compassion that proudly represents our contribution to Public Health."
She added: "The pedagogy of gamification is well evidenced in the literature but Joojo's achievement really is unique in providing an interactive board game that can be used in the context of group therapy for substance misuse rehabilitation.
"His work could potentially be transferred to other contexts of health education. It is there that service users can be actively empowered in making informed decisions about their potential processes of rehabilitation and integration back into society. We look forward to hearing more about how Joojo's work continues to improve the lives of others and congratulate him on 'Inspirado' being formally adopted by so many organisations."
Inspirado is currently on Kickstarter crowdfunding website to raise £5,000 for the manufacture of the first set of the game. Funds raised from the campaign can only be accessed when the target goal is reached.  The full details of the game can be found at http://kck.st/2eUnl7K.
Joojo has spent the last 11 months working at the Northumberland Recovery Partnership, previously he spent almost two years working at the Drug and Alcohol Service in Durham. This month begins a new role as a recovery co-ordinator working with Greater Manchester Mental Health Trust, in Carlisle.