A Sunderland writer, who has become an integral part of the history and culture of the world's longest-running soap, Coronation Street, will give two talks about her work next Monday and Friday.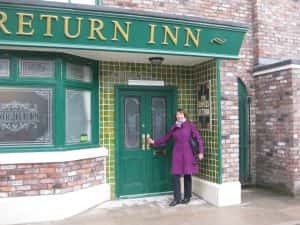 Glenda Young will give a talk as part of the Sunderland Literature Festival on Monday 16 October (2pm-3.30pm) at Washington Library and on Friday 20 October (2pm-3.30pm) at Houghton Library. Glenda, who graduated from the University of Sunderland with a Journalism degree, has been running the Coronation Street Blog fan website since 2007.
Glenda will discuss the Coronation Street Blog, and her seven Coronation Street TV tie-in books – which have had a golden seal of approval this week.
"I'm really honoured that all of my Coronation Street books will be available to buy in the museum shop at Salford Museum during the run of the Tony Warren exhibition," says Glenda.
'Four Miles From Manchester' at Salford Museum, celebrates the life of Tony Warren, the man who created Coronation Street. The soap opera was a huge innovation in drama, giving an unparalleled insight into working class lives when it first aired on ITV in 1960.
That spirit of innovation is being carried on by Glenda, who was recently commissioned to write the first weekly magazine soap opera, 'Riverside' for The People's Friend.
"The People's Friend is the UK's longest running short story magazine," says Glenda. "In a world where print media is increasingly facing a difficult time and disappearing or going digital, The People's Friend continues to thrive, proving there will always be a market for fiction."
On the strength of the weekly soap opera Glenda has recently been taken on by a leading London literary agent who is mentoring her writing her first novel which is set in Ryhope in 1919.
Glenda Young's talks takes place at Washington Library on Monday 16 October and on Friday 20 October (2pm-3.30pm) at Houghton Library Tickets cost £2 and are available on the door. For more details go to: www.sunderland.gov.uk/literature-festival