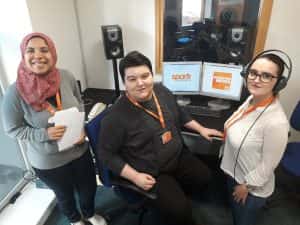 Sunderland's community radio station, Spark Sunderland, is leading the way at the national community radio awards – taking nine nominations.
The community radio awards launched in 2016 and are open to stations across the country, with organisers saying that more than 350 different entries from 70 community radio stations entered in 2017 and were whittled down for the shortlist.
Spark – ran largely by volunteers – broadcasts across Sunderland on 107FM and around the world online, and is on air 24 hours a day, seven days a week after launching in 2009.
The station makes use of state of the art facilities at the University of Sunderland's Media Centre at St.Peter's campus, with many of the stations volunteers studying at the University.
Spark has two nominations in the Best Entertainment Show of the Year category for DriveTime with Ryan & Beth and The Week in the Geek with Markus and CJ.
Ryan & Beth Smith, who are cousins from Sunderland, present on Spark from 3pm-6pm every Wednesday and Friday.
Ryan, 22, said: "Being from the city and as students at the university, we're really proud that the effort we put in is recognised."
Beth, 20, added: "We enjoy what we do on Spark, so to be representing the station and the city at the awards is amazing."
Spark's news and sport coverage is also nominated with weekly sports show SportsByte nominated for Sports Show of the Year, while Spark Reports the stations 10-minute local news programme is nominated in the News & Journalism category.
Ethan Lowerson-Marshall, 21, senior news reporter at Spark, said: "The team is absolutely delighted to receive this nomination. Spark Reports is a programme that brings together all the latest news from the City of Sunderland in an easy to listen to and informative programme. So many people enter these awards so to get nominated is a huge honour."
Long running music show, Dance Revolution, that picked up silver at the 2016 Community Radio Awards, has picked up a nomination again this year for Best Specialist Music Show.
Presenter Scott McGerty, said: "The crew and I are buzzed to be nominated again this year and in a year with record-breaking entries, that's even more overwhelming. We're definitely feeling the pressure after taking Silver last year and we'd love to thank anyone who has listened, watched and shared across the year."
Spark also got two nominations in the Community Development Project of the Year category for Mackem Craic & Global Sunderland.
Mackem Craic, is an audio drama, staged as a phone-in show with a supernatural twist and involved six different community groups and participants from three schools across Sunderland and South Tyneside.
The 45-minute drama also receives a nomination for Innovation of the Year, which also sees Spark's use of Facebook Live nominated in the same category.
Martin Steers, Community Radio Awards chair, said: "The 2017 Community Radio Awards has been a fantastic process. We have seen an amazing increase in engagement from the sector compared to our first year in 2016. We have just concluded a robust judging process and it's been great to have seen such a wide range of nominations."
The awards ceremony takes place in late September at the Community Radio Conference in Bristol.