Cyclists in the north east are gearing up for the annual Foundation of Light Cycle Challenge from Poland to Prague next month.
The registered charity of Sunderland AFC is hosting their sixth Cycle Challenge where riders will travel a total of 305 miles while climbing 16,500 feet from Wroclaw, Poland, to Prague, Czech Republic.
The highly popular international event is known to be physically testing but also great fun with a "fantastic camaraderie" within the team and Foundation of Light events manager Jemma Garrett is looking forward to another successful event.
She said: "This is our sixth year now and it's grown year on year – I'm really looking forward to it.
"We aim to rise over £30,000 from it which is unrestricted funds so can be used in the foundation and reinvested into the local community."
Previous challenges have seen cyclists ride from Dublin to Sunderland, travel from coast-to-coast across Italy, Brussels to Paris and from France to the Mediterranean and Jemma is expecting this challenge to be just as tough.
She said: "It's not a holiday because it's really hard work but you get five nights away and you're in a different place each night.
"It's a lot more beautiful than people think. People often think Poland and Prague are not very nice or that the scenery won't be nice but the images on the route look really good and the routes are exclusive to us."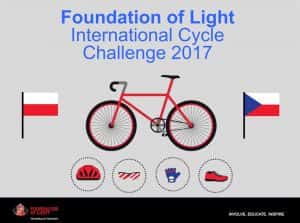 With 40 riders signed up to this years challenge the Foundation of Light are encouraging others to join by insisting anybody can take part.
Jemma said: "We'd like to get out to people that it is for anybody, as long as you've got a road bike and you train. We make it so that it is a challenge but you can achieve it.
"You've got to have a decent bike [a road bike] and we say you must be able to ride 20 miles without stopping.
"The Cycle Challenge costs a lot, but we make a lot as well. It costs £1600 – some people just pay it outright, some do fundraising because it is an event that people really enjoy.
She added: "For me it's such a team effort, when you see everybody coming in with the same jerseys on at the finish line.
"We have champagne for everybody, it's just a massive sense of achievement for me but also for them as well."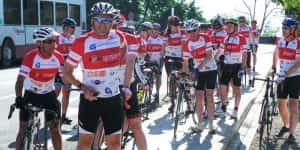 Foundation of Light coach, Alan Young, is taking part in this year's challenge and has said how the work the foundation do is one of the reasons that he has signed up.
He wrote on his 'just giving' page: "I have decided to take on this challenge to support the brilliant work the Foundation of Light do.
"I have seen first-hand the positive impact the Foundation has on people's lives and know that by doing this challenge and raising as much money as possible it will help the Foundation to continue doing what it does best."
He added: "I've never ridden a road bike before so plenty practice is required!"
Former Sunderland AFC star Marco Gabbiadini is once again promoting and taking part in the event and digital content manager Chris Fryatt has said how significant it is to have a character like him on board.
Mr Fryatt said: "Marco Gabbiadini is kind of the face of it. He's a real motivator and is really important to have out there.
"He's upbeat and will help you out. He massively supports it."
The aim of the Foundation is to help as many people as possible within the North East by giving them the greatest amount of opportunities possible through sport, education or the world of work and the cycle challenge is just one way the foundation raise money.
The Foundation of Light Cycle Challenge takes place 11-16 June. For more information contact Jemma.garrett@founationoflight.co.uk or 0191 551 5365