Members of the Great Britain team that competed in the International Blind Tennis Tournament last week were in action again in Newcastle.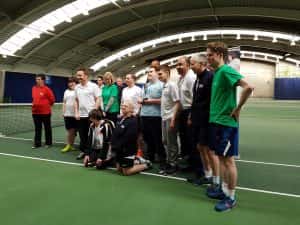 David Deas, Nikhil Nair and Wendy Glasper all played in the North East Visually Impaired Tennis Championships at the weekend, fresh from the international championships in Spain.
"I'm really proud of what we have achieved," said Glasper, who competed in the B2 category for players with low levels of usable partial vision.
The International Blind Tennis Tournament is the first of its kind and was organised by the International Blind Tennis Association, with 70 players from 14 countries taking part.
"We did pretty well," said Deas. "We had one winner, one runner up.
"Everyone got to the quarter finals or higher which is quite good, really."
Watch the video below to hear about the team's experience in Spain.
The North East Visually Impaired Tennis Club (NEVITC) also played host to the North East Championships at the Northumberland Club on May 13 and 14.
The event is run by the Tennis Foundation.
"Believe me, it's amazing," said Glasper, who is also the secretary for the NEVITC.
"The weekend has been a success. A lot of players have really come on. We had a tennis camp here in April which has helped a lot. I mean, I used to be able to beat these players and now they're beating me!"
The event has seen improvement over the last few years after attracting trained umpires and with participation increasing.
The North East Championships also host a party on Saturday evening for players and volunteers.
"The amount of work that's gone into the last few days has been crazy," said Graeme Manwell, Chairman of the NEVITC.
"From getting the venue to arranging trophies, from sorting out accommodation for players to sorting out lunches.
"There's a lot of work going into it, divided amongst a few people. But when you see what we produce as well and the improvements of the players, you think 'God, I'm glad I'm doing this'.
"It's been an overwhelming success."
The NEVITC also won the team award, after finishing last in a few of their previous attempts.
"The team has improved year on year. I'm absolutely delighted not just with the tennis but also the fact that the North East team won the award."
Among the NEVITC's successful players was Sidney Tambin, 26, who won the B1 men's singles category for the first time.
"I'm over the moon," said Tambin.
"I got some good returns in there.
"It's been a really good weekend for the North East."
Watch the video below to see Tambin in action.
"It's certainly improved my confidence and – doing a sport like this – it's great. To be able to run after a ball on a court in an open area, it helps with mobility and independence. If you can do that, you can do anything.
"Visually impaired tennis is definitely on the up."
The NEVITC was founded in 2010 and now has over 30 members.
As a club, it has also helped promote visually impaired tennis in other parts of the United Kingdom.
"I'd returned back from living abroad and I was looking for things to do to expand my social life," said Michelle Young, of the visually impaired tennis club in Glasgow.
"Then I came down to the Newcastle session and really enjoyed that. So I kind of took it from there.
"People who are playing regular tennis on the courts quite often will ask us what we're doing and how we're doing it particularly when we've just been running round a tennis court and then you unfold your cane and walk away at the end!"
VI tennis differs from the conventional sport with the game being played with a lower net and on a smaller court.
There are different sight classifications from B1 to B5 depending on a player's impairment, with more bounces being allowed for players with poorer vision.
"I think it helps socially," said Nadeem Mughal, who played in the B1 category for players with little to no light perception and no ability to recognise shapes.
"It could be scary playing a sport that thinking 'Oh, I may not be able to play' because you're visually impaired or you're blind, but it's good. It gives you loads of confidence.
"It was amazing. It's been a really good weekend of really good tennis."
The NEVITC uses indoor facilities owned by the Northumberland Lawn Tennis Association as well as facilities in Sunderland and Middlesbrough.
"I enjoy coming here and competing in the tennis tournaments for the social life and for the enjoyment of playing tennis," said Jack Fisher, who competed in the B3 category.
"I don't necessarily always win but it's quite a fun tournament to meet people and catch up with people you haven't seen for a while – especially those who come from various ends of the country.
"Hopefully I'll win it in a few years time!"
More information about the NEVITC can be found here.