A café that is ran by volunteers from the church and local community provides hot meals and the opportunity to meet new people for those hardest hit by austerity in Byker, Newcastle.
The Cross Café based at St Michaels Church in Byker is open three days a week, providing healthy meals for families in the local area. The café was set up by vicar Phil Medley, who wanted to create a space to bring the community together.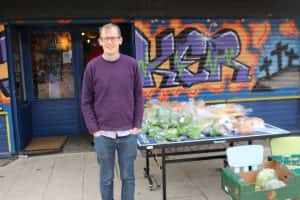 Medley said: "As a church we're in a good position to do something, there's lots of difficulties in the area and we're still working out how to engage with some of the hardest to reach groups and issues."
The café promotes healthy food, providing hot meals for families who have been hit by benefit sanctions and are unable to get out of poverty. Many children are also on free school meals in the local area. By being run entirely by volunteers with support from one staff member, they are able to provide volunteering opportunities and the necessary skills so people can move forward.
The café's only paid employee is cook Penny Walters, who has been in involved in the Cross Café for two years.
She said: "People can come in and have a cheap nutritious meal, everything we serve is nearly always home made."
The café stops social isolation, enables people to learn how to make food on a budget and gives them the opportunity to develop new skills, including food hygiene level two.
The cafe has also benefitted Penny Walters' own well being. She said: "It benefits me to be here because it helps with my own problems.
"I've had mental health issues for such a long time and I can pass what's helped me onto other people. Just getting out and making a difference is a big thing."
The café relies on donations from supermarkets; Tesco, Greggs and Marks and Spencer's for surplus food that then goes onto feed the people of Byker.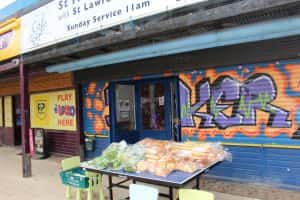 "There's a lot of food around – no one needs to go hungry." Medley Said.
The Cross Cafe' is a vital life line in the climate of council cut backs and barriers to employment, including computer illiteracy and costs of child care. Many people in areas such as Byker are forced to rely on the generosity of food banks and local community organisations to survive.
Medley concludes: "When times get tough people need more places like this, people need somewhere to go where they can get support and advice.
"You don't have to do a lot, you just have to be there and give people a friendly welcome."