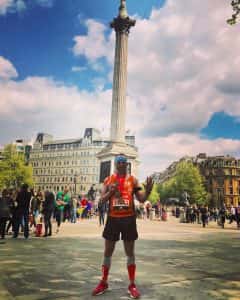 A Sunderland dad has powered through his fifth London Marathon to raise awareness of his daughter's coeliac condition.
Chris Collier ran the 26.2 mile course in under three and a half hours for Coeliac UK last weekend as his seven year old daughter, Abigail was diagnosed with a coeliac disease two years ago.
Coeliac disease is an autoimmune condition which leads a person's body to react to products such as rye, wheat and barley because they contain gluten.
This means everything they eat, drink or even touch has to be gluten free. If not, it can lead to serious health problems.
Chris, who is 37, said: "Abi has one of the worst cases of coeliac disease, which led to her being anaemic as a toddler.
"It also creates behaviour issues when she comes in contact with gluten.
"Even things like the wind direction are to be considered before we go for walks in the country, because she can be infected by nearby wheat fields."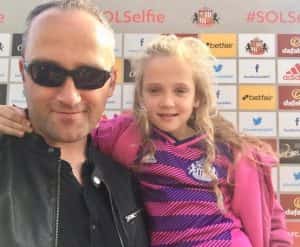 This year army man Chris chose not to run in full riot gear and instead donned red, white and black for the big day to pay homage to his daughter's favourite club Sunderland AFC.
He has managed to raise £574 of his £1,500 target so far for Coeliac UK.
Chris added: "If it means that just one more person thinks that it's worth getting tested as a result then that would be fantastic!"
Samuel Davies, Coeliac UK head of fundraising said: "We were delighted that he chose to run it for Coeliac UK for the second time to raise not only much needed funding for the charity but also to help raise awareness of coeliac disease.
"We are extremely grateful to all those that sponsored him and of course to Chris for all the months of training and his magnificent achievement on the day.
"We were there cheering for him, and all the runners, from our stand on London Bridge and the atmosphere was electric."
One in a hundred people in the UK have coeliac disease but only 24 per cent of those with the condition have been diagnosed, according to Coeliac UK, with an estimated half a million people who have the condition but are unaware they do.