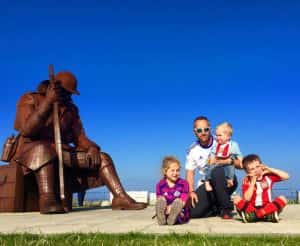 A petition to rename Sunderland AFC's Stadium of Light East stand to the Bradley Lowery stand has been signed by more than 2,600 supporters. 
The petition was set up by army officer and Sunderland AFC fan Chris Collier.
Mr Collier, from Sunderland, said: "I am proud to have such an inspirational young man associated with us.
"After everything that he has been through and the connection that he has made with all football fans, I feel that it is entirely appropriate to have a stand at his favourite football club named after him."
The petition began after Chris posted on the Sunderland AFC Supporters page on Facebook.
After gaining thousands of comments and a reach of more than 300,000 people, Chris created the petition.
Chris added: "I'm not asking for Sunderland AFC to spend millions redecorating, or having Bradley's name up in lights.
"Just spread the word and make a small alteration on the tickets, so that anyone sitting in the stand has Bradley Lowery stand on it. Hopefully, we can get this done."
The youngster, Bradley Lowery, has been battling neuroblastoma since 2013. He went into remission, but the cancer returned last year.
The Lowery family have now been told the news that the five-year-old's cancer is terminal.