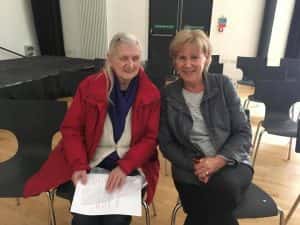 A service to support visually impaired Sunderland residents has been launched in the city.
The My Guide voluntary service, delivered by the charity Guide Dogs for the Blind, has been set up to support people to get out and about and maintain their independence.
Trained volunteers are partnered up with Sunderland residents who have sight loss in order for them to work towards the mobility goals they want to achieve, for example accessing community activities and landmarks or learning familiar routes and improving fitness.
My Guide volunteer Maureen Harle supports 72-year-old Mary Hewison from Hendon in Sunderland with a range of tasks.
"It's getting people out of the home. I imagine there [are] people sitting at home isolated. They may not have family and they just want to go somewhere and get outside, meet people and do different things. [But] they can't do it on their own, they need help, and this is where My Guide comes in," Ms Harle said.
The pair have been in partnership for nearly two years.
"I think it has [developed into a friendship]. Mary will ring me up at odd times just to tell me anything that she's remembered or something that she's going to do outside of our normal day," Maureen, 65, explained.
Mary added: "[She's made] a big difference. I used to walk along the Seaburn promenade when I could see a little bit but I can't do it now, so we go for a walk in the summer when we have a big opportunity to walk along the sand.
"It's been ages since I've been on the sand. I can do things with Maureen that I wouldn't be able to do on my own."
The My Guide service can also provide training in sighted guiding techniques to friends and family in order for them to acquire the skills to guide safely.
For more information about the My Guide service visit the Guide Dogs website, call 0345 143 0229 or email myguide@guidedogs.org.uk.