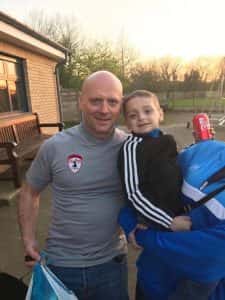 A charity football match held in Bradley Lowery's hometown of Blackhall, County Durham has raised more than £500 for the Sunderland AFC fan's funds.
The match, which ended in a draw between Lacey's Lads and Blackhall Hardwick, took place at the weekend at Blackhall Welfare Park.
A total of £523.22 was made at the event.
Organiser, Andrew Brown, 42, from Easington said: "I [am] over the moon with how the match went.
"[I am] really pleased with the Hardwick's hospitality and the good nature in which they played the game.
"I would like to thank John Peace and the council for the use of their facilities.
"Ted Wilford's coaches gave us a free coach to and from the match, which made us feel like a proper team.
"Overall I'm just really proud of my lads and pleased we could do something again."
Bradley Lowery, the brave five-year-old youngster who has been battling neuroblastoma since his relapse earlier last year, was at pitchside to cheer both teams on.
He was presented with the winners cup full of money after the event.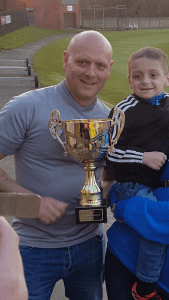 Family friend and spokesperson for the Lowery family, Lynn Murphy said: "Andy and his team have done fantastic, and Bradley really enjoyed watching the game, he was even awarded the trophy at end.
"Andy is an inspirational man, and we are forever thankful for his help with fundraising."