Dog owners are continuing to search for a missing dog who ran off a North East ferry in December.
Luckie, a four-year-old cocker spaniel, was able to run off a DFDS ferry bound for Holland as his family were preparing to return home for Christmas.
Despite booking their dog in a secure kennel on board the vessel, the family were distraught to learn that Luckie had managed to escape after a door became wedged open.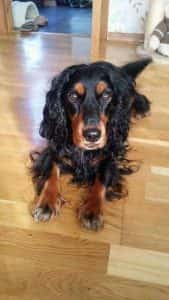 The mayday call was then delayed before the family eventually learnt what had happened.
Events have since been organised to help search for the dog, with the latest a walk alongside Longsands Beach in Tynemouth on April 2.
And the organiser of this walk is hopeful that it will help in the search for Luckie with every attempt so far having been unsuccessful.
Christine Kipling said: "We're all at a loss about what to do. We've produced posters and put flyers up but everything has drawn a blank.
"There's a principle based on dog psychology that Luckie could still be living feral and experts believe he may still be out there.
"Hopefully by asking people to come down for the walk we can ask them to help us look and also to share the word with their friends.
"We'll be bringing banners while we walk and we'll be lighting some candles on the beach that spell out his name."
One person taking part in the walk is Tracy Metcalfe, who said: "The idea of the walk is to keep Luckie in people's minds because he has been gone quite a while.
"We want to keep him known and we will be taking banners and handing out leaflets outside shops to let people know the search is still active."
A DFDS spokesperson said: "We carried out a full investigation into the circumstances of his escape from our ship in Newcastle at the time and this investigation indicated no damage to the kennel in which he was secured.
"We reported Lucky's disappearance to the local dog warden, rescue centres and RSPCA, as well as sending out search parties of staff to try to locate him. Unfortunately these efforts were unsuccessful."
More information on the walk can be found on the Walk for Luckie Facebook page.