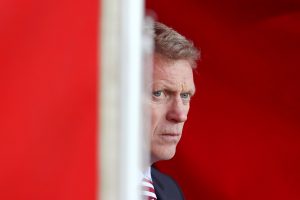 A North East woman, who has experienced domestic violence, has called out Sunderland AFC manager David Moyes' "get a slap" comment – warning the subject should not be trivialised. 
The Black Cats manager made the comment after an interview with BBC reporter Vicki Sparks.
Moyes said to Sparks she "might get a slap even though you're a woman" and told her to be "careful" next time she visited.
Jane*, who lives in the North East, experienced domestic violence from her first husband.
She said: "There is no trivialising of the subject. Domestic violence is something that causes its victims life-long trauma.
"You have to live with it, with the flashbacks of the years of brainwashing, of constant threats.
"It never goes away."
The Sunderland boss has since spoken at a scheduled pre-match press conference, ahead of the team's Premier League trip to Leicester, and expressed regret.
He said: "In the heat of the moment, I made a mistake in my comments to a BBC reporter, which I profoundly regret. I was disappointed with myself for it.
"I subsequently phoned the reporter and apologised, which she accepted. It's not my character, it's not my type, as most people know and once again, I apologise for it."
Jane told SR News her story.
She explains: "It took years to get to the point when the violence became physical.
"The first when I felt uncomfortable was right after we got married. My new husband lost it and called me names over the way I made an omelette. He then apologised. I thought he had a bad day.
"However, verbal abuse gradually became more frequent. I was a stupid cow in the morning, a stupid bitch in the evening. I shook when I was supposed to make a cup of tea.
"At that point I lived far away from my original family and old friends. I was completely isolated. Then more physical things started happening too."
Jane had crockery thrown at her as well as a rubbish bin tipped over her head – she had forgotten to buy bananas.
"I still have a scar on my right arm where he bit me over something so trivial that I don't even remember what it was. It became an every day thing. I was unhappy. You may think I am an idiot – I was trying to save the marriage.
"Even when my first husband threw an iron at me that narrowly missed my head, I played everything down.
"He kept saying it was all my fault. I made him do it. He took one look at me and was angry.
"I believed it was all my fault. If only I did what he wanted, I would make him happy and we would be happy together like when we first met."
Jane's wake up call came when she considered suicide.
"It seemed logical. Everything was my fault. That startled me and I realised how horrible it was. For the first time I admitted to myself that the only ways was leaving the man," she said.
"It took another year, the final straw was when he pushed me onto a hot cooker and I ended up with third-degree burns on my right hand.
"When I left him, he threatened to me he would put me into hydrochloric acid to 'have a bath'"
The Black Cats have released a statement on the matter.
A Sunderland spokesman said: "David and the reporter spoke to one another subsequently and the matter was resolved amicably."
*name changed for safeguarding purposes.