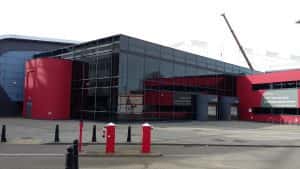 The Sunderland Aquatic Centre, which cost £20million to build and opened less than nine years ago, is set to close next year for renovation work.  
It is estimated the worl will take 6-9 months to repair the centre due to leaks in the swimming pool area.
According to, Georgia Fuller, was a part time swimming teacher in Sunderland Aquatic Centre, said: "I would think it's worth doing the repair work on it. I know it's probably costing a few million pounds but that's tiny compared to how much the whole building cost to build originally."
She added: "It's a really great pool."
Until then, the gym and changing room, in the period of the works, would be open to serve the people.
Cabinet Secretary, Councillor Mel Speding said: "Much as we don't want to close the swimming pool of the Aquatic Centre for any length of time, it is essential that this happens at some point in 2018 to allow the structural repairs that are needed to go ahead."
He added: "Sunderland Aquatic Centre is not only an asset for the city but for the region as a whole which is why we have agreed to commission this remedial work so we can get the pool back up and running as soon as possible.
"There's never going to be a good time to carry out this kind of work but we will be working with our partners Everyone Active, who manage the city's sports and leisure facilities on our behalf, to minimise the impact on users as much as much as we possibly can."
The Aquatic Centre pool which is the only Olympic-sized pool between Edinburgh and Leeds is used as a training pool for the gold medallists at Paralympic games, Josef Craig and Matt Wylie.
Stelios Hadjistylli, a constant swimmer at the pool, said: "I am really happy with this swimming pool. It is a great place to swim and relax and get fit.
"It is a very good place offering to people of all ages the opportunity to have fun by yourself or with friends.
"I would feel a little bit sad since is a very long time."
During the works, the users of the swimming pool in Aquatic Centre will be able to use the pools at Silksworth, Hetton, the Raich Carter and Washington Centre.