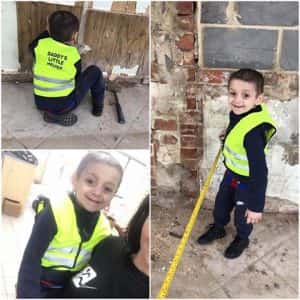 Brave Bradley Lowery became a builder for the day as he experienced a day at work with his dad.
The five-year-old, who is currently receiving treatment for neuroblastoma, decided to help out on the building site – hi-vis vest and all.
His mum, Gemma Lowery, said on the Bradley Lowery's fight against neuroblastoma Facebook page: "Bradley is doing ok and is excited to be mascot for the England game next week.
"Today he wanted to go to work with his daddy and help out so that is what he did.
"He had lots of fun although it did wear him out."
Family friend, Lynn Murphy added: "Bradley can put his mind to any job in hand, helping his dad is what he likes to do."
Bradley is scheduled for his next round of treatment on March 27.
The youngster, from Blackball in County Durham, will be going to hospital to get his bloods checked as a day patient "but hopefully there will be no overnight stay," his mum Gemma said.
The family have thanked people for their ongoing support.