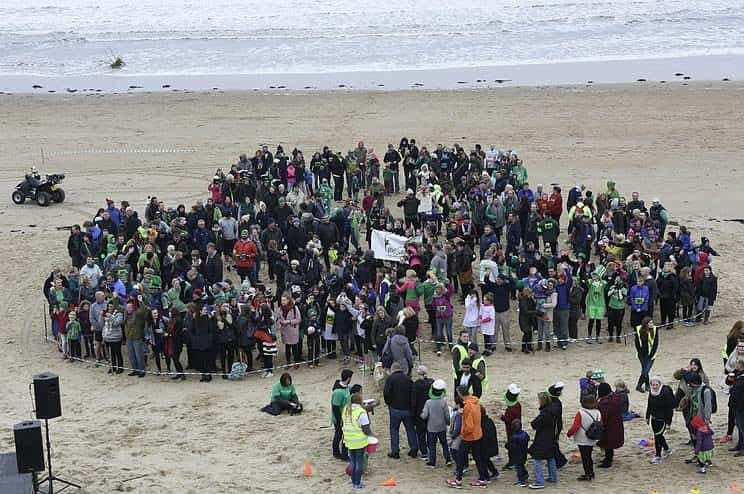 This Saturday floods of people will travel to Tynemouth Priory at 12pm to participate in the attempt to break the Guinness World Record for the largest human Shamrock.
The jam-packed weekend "Green Carnival at the Coast" has something for everyone, as the local landmark will play host to The Cuban Brothers and Trevor Nelson on Friday night, followed by family activities and the world record attempt on Saturday 18.
The largest human shamrock was also attempted at last year's St Patrick's Day festival, but unfortunately it did not beat the Guinness World Record.
Organisers of the event are confident that the luck of the Irish is on their side this year with over 1000 people expected to be on the Priory to form the shamrock.
Live music, a zip wire, a fun run, interactive worlds, food stalls and dancing are just some of the other events and activities scheduled at this year's festival.
Rebecca Grant from the organising company said: "The weekend will be of great value to the area in the way that it will bring the Tynemouth community together in the support of charity, as well as bringing a huge number of visitors to our fantastic Northumberland coastline."
There will be an expected footfall of 3000 people on Saturday 18, which will certainly benefit local businesses in the area.
Rebecca added: "There is something for all ages, abilities and interests across Friday 17 and Saturday 18 March, and as a not-for-profit event, attendees will know that they are doing a lot of good whilst having fun at the same time."
Festival-goers can take part in a family fun run on Saturday where participants will meet outside of Crusoe's beach Café at 10.05am.
There will also be a special disability run starting at 9.30am.
Lyndsey Ramsay, a repeat festival-attendee said: "I personally cannot wait, the atmosphere was fantastic last year and it only seems to be getting bigger this year, it's the ideal day out for the kids."
All proceeds from Green Carnival at the Coast go to three causes; the PSP Association, Cystic Fibrosis Trust and North Shields Fishermans Heritage Project.