A student whose mum battled breast cancer is planning to cycle over 200 mile in order to raise money to fight the disease.
Sarah Jane Thoms, from Fulwell, is planning a bike ride to raise money for Breast Cancer Now after her mum was given the all clear.
Sarah's mum, Karen Hunter, 55, of Hall Farm, was diagnosed with breast cancer in 2013 and had to undergo various gruelling treatments including radiotherapy, chemotherapy and a mastectomy.
She said: "My mam was so brave throughout the fight and I will always be proud of her for facing the terrible disease head on. I've chosen to raise money for Breast Cancer Now because the charity believes that by 2050, no one will have to die because of breast cancer again.
"That's why I feel that it's important for me to help make a financial contribution to the charity so that the research they are carrying out can continue and a long term cure can be found."
The bike ride will take place throughout July and will be just over 220 miles long starting in London and ending in Paris.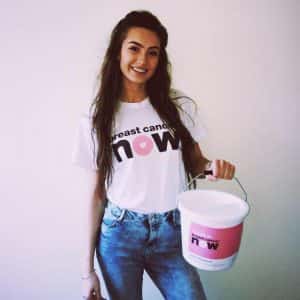 Sarah has also been organising several other fundraising events while being at university in Manchester, such as raffles, charity evenings and street bucket collections.
When choosing how to raise the money, Sarah said: "I knew that if I wanted people to donate to the cause, I needed to do something that involves a lot of determination and willpower. To cycle over 220 miles over three days is mentally and physically demanding and involves a lot of dedication and training beforehand. "
"I wanted to show people how committed I am to the cause, which hopefully encourages donations and support," she added.
Challenge Events Manager for the charity, Sian Wilkinson, said: "We are so grateful for Sarah's wonderful support. We hope her London to Paris bike ride, along with her other fundraising activities, will be a big success whilst raising much-needed funds for breast cancer research.
"With supporters like Sarah by our side we can make it happen faster. We wish her the very best with her event!"
All donations are welcome and can be given via Sarah's online giving page.