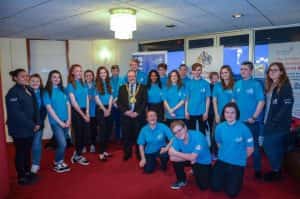 The Sunderland Sail Training Ambassadors visited the Mayoral suite on March 9 to learn more of the history of Wearside in the run up to the 2018 Tall Ships Race.
The young ambassadors had tea with the Mayor, following a brief history of Sunderland in the council's chambers at the civic centre.
Coun Alan Emerson said it was "great" to finally put names to faces.
He said: "I've been hearing all the stories about all these ambassadors we have but I didn't know who they were. It's great to see everyone in the flesh, to see that they are real people and that they have a real job to do, which I think is fantastic for the city."
Sophie Jordan, 20, is one of the ambassadors who attended the event.
She said: "I've never met a mayor before, so it's nice to be able to say I've been here."
Sophie sailed on the Black Diamond of Durham with the ambassadors last year in the North Sea Tall Ships Regatta, which took them from Blyth, Northumberland, all the way to Gothenburg in Sweden.
She added: "I'm really looking forward to going away again next year, but I'm also looking forward to the other activities we have lined up in the future."
These activities will involve sailing and diving training in the coming months.
Learning about Wearside's maritime heritage is something the Mayor thinks will be a great help in Sunderland's City of Culture 2021 bid.
He said: "It's part of our culture, all of the things that the ambassadors are going to be doing. Talking about the history, heritage and culture of the area can only help towards that.
"And not only that, getting people to come together from all over Europe to do something together in a competitive situation is absolutely amazing."
Although Coun Emerson will not be as involved in the project when he steps down in May, when asked if he would still be attending Sunderland's Tall Ships Regatta in 2018, he replied: "Oh, I certainly will, yes."
"We've got an absolutely excellent sea front, so this is something to shout about. Sunderland is on the map."
For more information on the Tall Ships Project, visit their Facebook page at: https://www.facebook.com/TallShipsRacesSunderland/?fref=ts