Local charity group, The Children's Foundation, has launched an online fundraising campaign to expand the Clown Doctors programme into Sunderland Royal Hospital.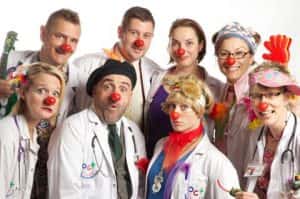 The Clown Doctors programme is a creative way to provide hospitalised children and young people with access to vital therapeutic play whilst enriching the experience of each child's hospital stay within a wide range of medical departments.
Offering children a playful and fun experience, the Clown Doctors use drama, puppetry, play and other performing arts to lower their stress levels, provide distractions and relieve boredom and loneliness amongst other benefits.
To secure the future of the project, The Children's Foundation has set up a crowdfunding page to raise £5,000 which will be used to run the programme in Sunderland Royal Hospital for six months.
Community and Events Fundraiser, Jonathan Clegg said: "The Children's Foundation aims to run the Clown Doctors in all hospitals in the North East. Due to our relationship with Sunderland Royal Hospital, it seemed like the best option to try and introduce the project there next.
"We have already installed two V-Pod's, pain distraction equipment, into the hospital but we know there is more to be done to improve the experiences of children whilst in hospital.
"This project will directly benefit the children living in the Sunderland area. We want to ensure that all children in Sunderland have access to projects like the Clown Doctors to guarantee their hospital experience is a much more positive one."
The Clown Doctors programme was first introduced to the City of Sunderland in 2005 and ran for three successful years before ending in 2008.
Martin Wilson, Managing Director of TIN Arts and the Clown Doctors, said: "We are delighted that our programme may be returning to Sunderland Royal Hospital.
"We want to support children who may feel frightened, lonely, bored or confused; as well as coping with illness they are in a new place, away from home, which is filled with unknown people, medical equipment and sometimes distressing sights which healthy children do not have to experience."
To donate to the project, visit: http://www.crowdfunder.co.uk/clown-drs