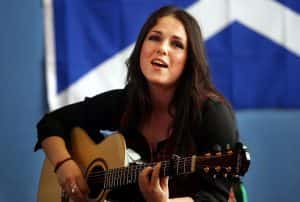 Scottish singer-songwriter Sandi Thom has sent a message of hope to Sunderland mums battling post-natal depression as she reveals her own experience with mental health problems.
The 35-year-old has talked about having post-natal depression following the birth of her son, Logan, who turned one on March 9 this year.
Sandi said: "I think the biggest thing is that it does come to an end, it won't last forever and that you are going to get over this. It's not going to be for the rest of your life.
"I don't think you should be ashamed at all or be too proud to go to your doctor. There's nothing wrong with that."
Sandi has released a new single, Tightrope, to talk about her experience with post-natal depression.
"The tightrope thing to me was a good way of describing the sort of balancing act between almost being on the edge of losing it and at the same time having to be a functioning mother." Sandi said.
The I Wish I was a Punk Rocker (With Flowers in My Hair) singer added: "It's hard to put it into words even in a conversation, you sometimes struggle to explain what it feels like.
"For me it was more anxiety, chronic paranoia and horrific thoughts – fear beyond your control. Fear that you don't even know what you are afraid of, you're afraid of fear itself.
"I was ashamed of it, I didn't want anybody to know. You want to be supermom, you want to be superwoman, you want to show people you can do a good job. I think you think you're weak because of it."
All profits from the song will going to PANDAS Foundation, a charity that provides pre and post-natal mental health support.
Tillie Mabbutt, a spokesperson for the charity, said: "Receiving the profits from her single 'Tightrope' means that we can continue to support our parents and their families as much as possible.
"Pre and post-natal mental illnesses can be hugely isolating and lonely, so to ensure that parents have some where to come be that online, on the phone or to a local support group means that they don't have to go through it alone."
The song, Tightrope, will be released on Friday, March 24.