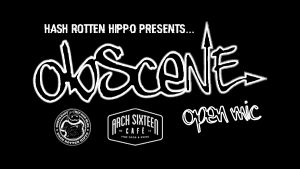 North East Hip Hop's leading blogger, Hash Rotten Hippo has announced a new Hip Hop night to take place in Gateshead as an SR News exclusive. The hub for local rap artists online is taking his brand to live events in partnership with the Arch Sixteen Cafe for open mic night ObSceNE. Premiering on Saturday 1st April from 8-11pm, ObSceNE is Hash Rotten Hippo's first live event but is looking to put on regular events afterwards.
The event is being branded as more than an open mic night however as Hash Rotten Hippo describes it as a "North East Hip Hop social." He explains 'ObSceNE' is an opportunity to "hang out with those square boxes you recognise from Facebook – get to know one another and if you fancy it, step to the microphone and show everybody what you've got! All are welcome and anything goes, please leave your negativity at home!"
ObSceNE is an event for fans and rappers alike but for those who want to perform Hash Rotten Hippo says "To make sure you get your spot on the mic, drop a comment and we'll get you booked in! Feel free to bring your own beats, preferable on USB… 90Bro will have plenty instrumentals at hand for those just wanting to rap!"
Speaking on why he has decided to get into live events, Grant Seymour, the man behind Hash Rotten Hippo says "I'm doing it to get people off Facebook and active in a scene I preach so much about. People complain they don't get booked for gigs etcetera and don't even know how to hold a mic let alone rap into one. This can be that much needed practice session. First and foremost it's a social gathering networking of heads with beats, beers, mics and munchies."
Arch Sixteen is no stranger to Hip Hop with names such as Kay Greyson and New North East's Reali-T having performed in the venue recently.
This isn't the first open mic night North East Hip Hop has had, B-Type recently started hosting events in Sunderland's Bavaria bar. B-Type explains, "Das Hype Open Mic is a platform for all sorts of performers to garner precious stage time in front of an audience in Sunderland, every Sunday at Bavaria. The event has welcomed bands, acoustic acts, rappers, comedians and poets to its stage, rewarding all with a well earned pint. Regulars at the event have seen their performing abilities increase as they improve their confidence and execution in front of a crowd."
Are open mic nights the future of North East Hip Hop?
ObSceNE premieres on Saturday April 1st and is free entry at Arch Sixteen Cafe. Contact Hash Rotten Hippo if you want to book a slot to perform on the night.