Newcastle United legend and Ashington-born Jackie Milburn today had his new statue unveiled at the forefront of his hometown.
The tall bronze statue takes up a position at a newly prominent position outside the recently opened £21million Leisure Centre.
The statue had previously been positioned on Station Road, Ashington, but its long stay was ended when a redevelopment of the road was carried out last year.
But now, Milburn returns to Ashington, with his statue featuring outside of the town's prime attraction.
His family were in attendance as the statue was displayed in front of the public for the first time.
Another person in attendance was Ashington MP, Ian Lavery. He said: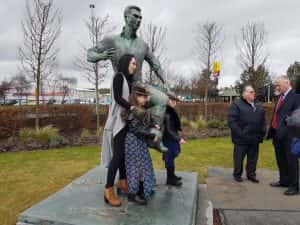 "It was great to be a part of a great unveiling for a great man – a legend of this area – a legend of the coal town of Ashington."
"It's such an honour, such a privilege to be a part of an unveiling of a man with such history and someone who is really respected in this part of the world."
Milburn inspired many with his work commitments. The majority of footballers nowadays earn their living through just their sport, but Jackie worked in the coal mines through the day and played for Newcastle United by night.
"If Jackie's story cannot inspire young people to participate in sport then nothing can," said Mr Lavery.
"Somebody who represented his country and during the week worked as a coal miner – Somebody who had complete dedication and passion towards a sport but at the same time, had to make a living being a miner."
And Mr Lavery believes there is no better place to show off their local hero.
He said: "It's more suitable to be in the newly generated part of Ashington next to a new leisure centre in which is brand new and has tremendous facilities – lots of people come here from across the North East – use the facilities and are able to see and enjoy the statue and remember Jackie as a true legend he actually was.
"It means an awful lot for people in this area."
The ex-Newcastle striker is remembered for his goal-scoring antics on Tyneside after he fired 200 goals for the Magpies, a record that has only been beaten by Alan Shearer.
Milburn's legacy as a footballer lives on around the North East, but none more so than with Ashington FC. A spokesperson said: "Everyone at Ashington FC is delighted to see the statue of Jackie Milburn now being sited outside the new Ashington Leisure Centre. The sporting history of our town is very important to us, and to see the statue in such a prominent position on one of the major routes into the town centre reinforces the level of importance that this history has with the local community."