Sunderland could be set for its first drive through coffee shop, with 20 jobs to be created in the process.
International chain Costa Coffee has submitted a planning application to build a coffee shop, complete with a 24-hour 'Drive Thru', at the Pallion Retail Park in Sunderland and local Councillor Paul Watson says this emphasises the "buoyancy" of the economy in Sunderland.
Plans were submitted on January 17 for the development, which would see Costa open their third store in Sunderland – following on from outlets at Hylton Park Retail Estate and in the Bridges Shopping Centre.
And Coun Paul Watson was delighted to see another big brand coming to Sunderland, as he said: "There was a time where we wouldn't have dreamt of having Costa Coffees and McDonalds and I think it just shows the buoyancy of the local economy here.
"I think as barometer of economic development and economic success of the region, it's great to see Pallion starting to benefit.
"The transformation in Sunderland has been incredible and we have embraced the new economy that we've tried to engender into the city.
"It's new territory for these multinationals and to be in this position where they are looking at Sunderland and making investments is really heartwarming."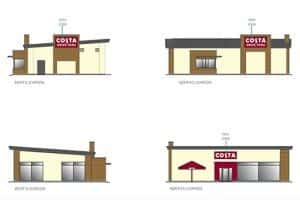 As part of the development, 10 full-time and 10 part-time jobs would be created providing a further boost to the retail park after the reopening of a refurbished Matalan store in October of last year.
The plans have also been met positively by the public, with teacher Sam Sanders saying: "I think it's great for us to have these new jobs. It's definitely somewhere I will use.
Grace Dean, 19, echoed his views: "I use Costa regularly so to have another branch in the area is very good. I think it will be very popular."
Costa Coffee opened their first store in London in 1971 and now have over 3400 stores worldwide with more than 1000 in the UK.
SR News contacted Ediston Real Estates, who lease units at Pallion Retail Park, but they declined to comment at this stage.
A decision will be reached on the plans by March 14 at the latest.