One of the most romantic days of the year is fast approaching. Valentine's day represents a day of spoils, expenses and love as couples aim to show their affection for their other half by pulling out all the stops to impress. But for local restaurants, Valentine's Day is less about love and more about competition.
Last year British people spent over £1.6 Billion over the Valentine's weekend, accounting for the majority of sales over the January – March period, in the aftermath of Christmas. As such, many local restaurants plan special events or one off deals in a bid to bring in as much business as possible, fending off their rivals in the process.
However, with Valentine's Day spending falling by 3% last year and 5% from 2014 what effects will this have on the prosperity of local businesses? Additionally with many local restaurants counting on a strong Valentine's weekend can they afford to lose another drop in income? And to what extent does this set the precedent for the rest of the year?
Mercede Riolfo, a Brand Ambassador for one of Newcastle's most popular restaurants, Fat Hippo Underground, explained just how vital this weekend is for starting off a successful year. "Valentine's has always been a popular time for us… its one of the first really busy weekends after Christmas so we always try and make the best of that." she continued "this year we've got a special Valentine's themed menu that's available from the 10th – 1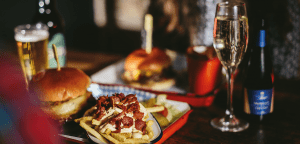 4th February and its generated a lot of interested, we're booked pretty solid all weekend which is really positive and we're hoping this will continue for the rest of the month and indeed the year."
Additionally, local couple Kate Tickell and Luke Compton expressed their feelings around this special day. "We don't buy each other big gifts or anything but we always try and make the day special… we'll go out for food maybe but nothing that breaks the bank its always good when places have cheap deals on so we can go out and not spend too much." They continued, "in fact this year we're having a low budget Valentine's because we would rather save for birthdays and other more important events."
Spending less and less money on one another is bad news for local businesses and is a repeating trend across the region – but even those who disagree with Valentine's Day can be swayed by the prospect of deals.
Amie Scott, a local NHS worker, explains her hatred of Valentine's Day but its not all doom and gloom. "It's a sales gimmick… Valentine's Day has become a sales technique that exploits couples feelings towards on another." However, she went on to say "despite hating the day, I do like that many of my favourite restaurants and bars have specials deals on… so in all honesty me and my other half will probably go out for a bit."
It's more than likely that Ms. Scott's opinions represent many others and gives an explanation as to why Valentine's Day spending is falling year in, year out. As less and less people are falling victim to the 'Valentines gimmick' and couples like Kate and Luke are saving for bigger events.
However, adaptable marketing techniques used by local businesses is resulting in to a unique transition of Valentines Day, by turning the day into one of special deals and events rather than overpriced dinners and over-extravagant gifts. It is highly probable that this could be the most profitable Valentine's Day yet, bucking the downward trend and keeping both lovers and businesses happy.