Volunteers from a local food bank are looking for support from Newcastle United fans at St James' Park.
The NUFC Fans' Food Bank are setting up a donation point outside of Newcastle United's home ground for their league match against Bristol City, with people being asked to drop off any types of food. People aged from 8 to 80 donated food at the last collection.
The project got off to a great start in their first Food Bank collection during Newcastle's match against Derby County on February 4, with the generosity helping to raise three tonnes of produce before the club's 1-0 victory.
Stuart Latimer, media volunteer for the community group, was delighted with Newcastle United's help and enthusiasm of their fans.
He said: "It was superb that they got involved as that boosts the profile of the whole enterprise.
"Their media range is unparalleled for reaching the people that matter – the season-ticket holders – who actually brought the food in."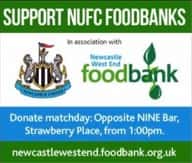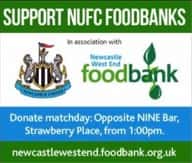 The Newcastle West End Food Bank alone – the largest food bank in the country – supplies 1000 people with the food parcels they need to live and survive each week.
The initiative was launched with a strong backing from Newcastle United – who wrote articles through their official channels on the day of the collection.
Mr Latimer believes that the next collection can raise even more than previously, adding: "There is definitely scope for more produce to be collected. If every one of the 50,000 fans visiting St James' Park on a match day brought just one tin each, it would be a total of 20 tonnes."
Bill Corcoran, a driving force behind the group, was passionate in helping those in need.
He said: "Going to the match isn't just about the players, manager or the board. It's about supporting your city, region and people.
"When we found out 1000 people a week would starve without the Foodbank and they get half of their food from London, we had to do something.
"Football fans have never ignored suffering in their communities. They will always help."
The group are hoping to engage further with the North East community as they look to link up with local universities, along with Sunderland AFC.
For more information, visit the group's Twitter page @NUFCFoodBank