A Muslim woman has been left disgusted and horrified after a man allegedly verbally attacked her on a bus in Newcastle calling her a "terrorist" and shouting obscenities.
Meriem Echraibi, 19, from Benwell, Newcastle, was racially abused on the Stagecoach bus on her way to university on November 3, 2016.
The horrifying ordeal started before Miss Echraibi, boarded the number 30 bus in Adelate Terrace, Benwell at 2.00 pm.
Miss Echraibi said: "The man made direct eye contact and shouted so loudly that I turned the volume up on my head phone.
"He kept using foul language and obscenities, he called me a terrorist and told me to go back to my country. At one point I was so angry and frustrated that I wanted to say something, but I remained calm thinking what more he will do."
The white male continued with his behaviour throughout the 30-minute bus journey before getting off at Monument station.
Miss Echraibi, originally from Morocco, is a student at Northumbria University studying at an advanced stage towards a Master Degree despite being only 19-years-old.
She described the incident as "scary and embarrassing" and said: "I travel on the bus regularly to get to the University and have never faced anything like this.
"Fellow passengers got very angry and started to get into a heated argument with the man. Another girl left the bus because she was so terrified. Nobody could stop him. There was also a woman with him at the time who kept telling him to shut up. She kept looking at me saying 'she's not bombing the world'."
Miss Echraibi added: "I was very irritated and frustrated but I remembered a quote from our Prophet saying do not deal any calamity in life with aggression but only with patience. In order to show the good characteristics of being a good Muslim".
A Statement from Stagecoach North East:
"Our bus driver was not made aware of this incident at the time. However, we were very concerned to hear about these allegations when they were reported to us.
 "The safety of our customers is our first priority and we expect all customers to treat fellow passengers with respect at all times. Fortunately, incidents of this nature are very rare and all our buses are fitted with CCTV to protect passengers. We are assisting police with their inquiries into this alleged incident."
Graham Strange, manager at 'Safe in Tees Valley', Stockton, which is an organisation for victim care and support has said: "No crime should be tolerated, we are here to listen and support people who have been victimised. We can help victims on how to report if they chose to and cope after an incident has occurred. We don't want anyone to suffer in silence, or to be isolated. We recommend that victims to get in touch with local victim support in the area who can help them to recover and make them feel safe".
According to Stop Hate UK, a charity organisation, it has been reported that the UK has 'regressed about 20 years in its fight to tackle hate, discrimination, harassment and prejudice' over Brexit.
The charity has seen a 61% increase in calls to the Stop Hate Line Following the EU referendum.
The figures presented shows Hate motivation pre and post Brexit. It clearly shows a significant increase in the number of Racist incident reports- some 150%.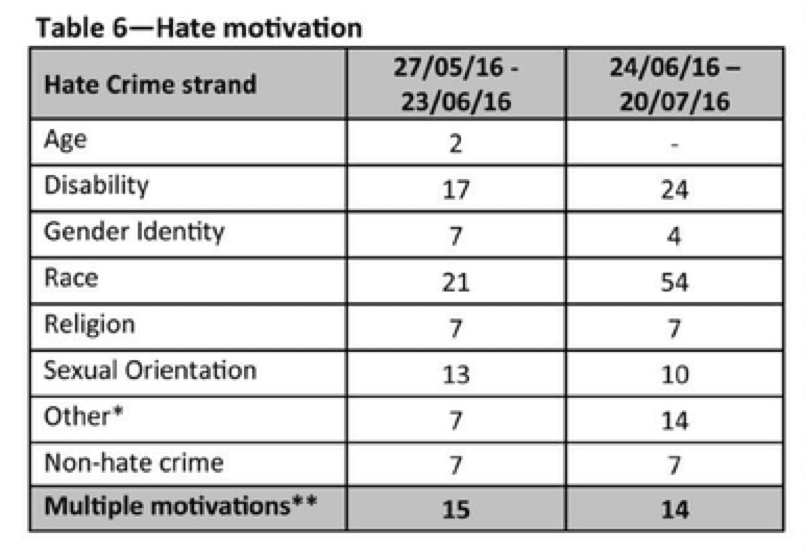 Northumbria Police have described the man being white, in his 20s or 30s, around 5ft 6ins tall and with ginger/blonde coloured hair. Enquires are ongoing into the incident and anyone with any information is asked to contact police on 101 quoting reference number 387 06/11/16.