The number of newly diagnosed patients with prostate cancer is rising within the North East.
Thousands of men are diagnosed with prostate cancer every year in England and in the North East, this number has increased consecutively for the past five years. In 2010, nearly 1500 men were diagnosed with the disease and in 2014 there were almost 1800 cases.
Dr Kanagasabai Sahadevan, consultant urologist at Sunderland Royal Hospital, said: "People are becoming more aware of prostate cancer.
"If you look at the historic trend the growth was much lower 20 years ago but since the advancement of PSA, the blood test that checks protein levels associated with the prostate gland, that can be raised for various reasons."
The prostate-specific antigen, or PSA is a protein produced by the cells of the prostate gland. These levels can be measured in a simple blood test.
Dr Sahadevan added: "It can be done by doctors and is an inexpensive test, a lot more people are having this test done, and that is what brings them to us to have it diagnosed."
The prostate, about the size of a walnut, surrounds part of the urethra and lies in front of a man's rectum at the lower part of the intestine. Prostate cancer is a disease in which malignant cells form in the tissues of the prostate.
Professor Naeem Soomro, Head of Robotic Surgery at Newcastle's Freeman Hospital said: "People in general in the North East tend to have later stages of cancers detected than the rest of the country."
The average age for men to be diagnosed is between 65 and 69 years, and those who are over the age of 50 are higher at risk. However, more men below the age of 50 are being diagnosed with the disease each year.
Dr Sahadevan said: "I have been doing urology for the last 17 years and during that time I would rarely see a patient with prostate cancer under the age of 40. But now I am seeing it on a monthly basis. The landscape is changing."
One way that surgeons have battled against cancer is by training with robotics and digitising the operating room.
Robotic surgery has fewer complications and is more precise than traditional surgery. Its main advantages include shorter hospital stays, quicker recovery time and reduction in blood loss. It may also reduce erectile dysfunction and incontinence in patients undergoing prostate surgery.
Robotic prostatectomies are available throughout the UK and the North East including Sunderland and Newcastle.
Professor Soomro said: "Everybody has seen the self-driving cars but they don't know the major advances in robotic surgery and its benefits.
"This gives you the ability to perform very complex operations with minimal complications. With robotic surgery the majority of patients only stay for 24 hours."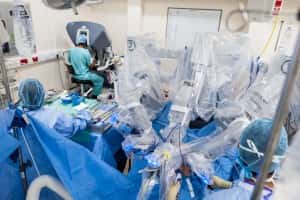 Dr Sahadevan, who specialises in robotic prostatectomies said: 'We have been doing robotic surgery for the last three years in Sunderland and we have done over 275 prostatectomies. It is making people think that because the technology has improved that they feel more comfortable about it.
'There is no comparison when it comes to the complication rate. With open surgery there is a 17 per cent complication rate, and we can have literally under one per cent complication rate with robotic surgery.'
Although these advancements in technology have not changed how individuals feel about cancer. Professor Soomro advises that patients should see their GP as soon as they see any symptoms.
Professor Soomro said: "The fear of being told that you have cancer, and especially for the entire family, is heavy. People don't want to go to find out.
When they understand what the treatment and procedure is going to be like and how advanced they are, I think that will help people. It will allay their fears when they don't want to talk about it."
For more information on symptoms and treatment for prostate cancer visit prostatecanceruk.org