The national Being Human Festival takes place this month and aims to bring the humanities to the public, so we can come together and celebrate what it means to 'be human.' While we live in a world where diversity is more important than ever and arts & humanities funding is constantly being cut, you can see why having such a festival is so important.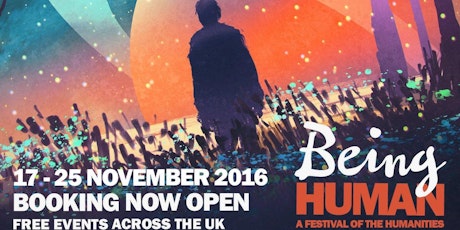 Copyright: Being Human Festival 2016
 The humanities have always been with us. As a subject, humanities have been around since universities began, long before the Second World War and before education became compulsory.  Some would say that they define us, our emotions, our thoughts, our creativity – through technology, history, art, literature and music, the humanities are what make us who we are. Scientist E O Wilson described the humanities as: 'the natural history of culture, and our most private and precious heritage' Studying what makes us human and what it means to be human, it's easy to see why so many people are drawn to the field. The humanities tell the essential stories of who we are. This needs to be celebrated.
With events up and down the country during the festival there's plenty to choose from, from robots to history to space.
The Being Human Festival is now in its third year, it originally began in 2014 with over sixty university's and cultural organisations hosting events.  'Being Human is a national forum for public engagement and humanities research' said the festival organisers. The festival aims to take us on a journey of discovery, to understand ourselves and the relationships we have with those around us, as we learn and develop in the challenges of the ever changing modern world. Led by the school of advanced study, University of London, in partnership with the Arts and Humanities Research Council and the British Academy, a varied program of events has been put together to make this journey possible.
I attended the event: 'Hoping for peace, imagining war: British writers 1890s-1920s.' at the Lit and Phil library in Newcastle on Friday 18th November 2016. Inspired by the welcoming introduction 'An entertaining and thought provoking journey through tales of war, invasion and peace' I sat down to listen to the 'Being Human' talk given by Dr Ann-Marie Einhaus, Senior Lecturer in Modern and Contemporary Literature at Northumbria University.
Thought provoking? Possibly to some people.
Entertaining? I'm not so sure.
The talk began with a brief tour of the way writers expressed themselves while they were away at war, how magazines depicted the times – the fear, frustration and panic created by wars, and then the opposite – peace. Through history we learn how the writings are depicted of World War One, how memories are represented and shared through the generations that follow. Accompanied by images of the magazines and literary sources, Ann-Marie tells the story of how through a changing and often terrifying world created by war, writing was used to express these thoughts, feelings and emotions.
It is clear that Ann-Marie is very knowledgeable of the field, and has produced some interesting research. I can imagine this would be fascinating in an academic context. She has a love for her subject and wanted to instil this passion on her talk attendees. I wondered if this festival was the right medium for her to present her work, in the way that she did – given that this is a nationally funded festival. I did feel that her research wasn't as accessible to the public – and those that 'Being Human' is aimed for – as it could be. As a member of the public, I felt somewhat lost in translation as she presented her work, and if I feel like this I can imagine that others will too.
So Being Human? How does this event relate to the wider festival that the public can enjoy up and down the country? War and peace clearly depicts a part of our humanity, when we are at our most vulnerable, almost fearful but some would say brave.  The humanities are everywhere – and through this one event in Newcastle I saw just a glimpse of what makes us human, how we thrive and how we can conquer adversity.
The way this need for the humanities has been communicated, however, is questionable. Communication is everything: – the festival experiments with all mediums – practical arts workshops, tours, demonstrations, as well as more traditional talks.  Some will be accessible to you the public, some won't – but a festival aimed at us and our well-being should be open to including us all.
As someone who has a background in history, I came away with more questions than when I came in and my understanding was blurred. Ann-Marie delivered the talk with a traditional Power Point show that could have benefited from a more hands on and practical approach. Questions from the audience, perhaps? A discussion at the end? Or an extract from a film so that we could visualise the time, the thoughts, feelings and emotions of those writing about war in the 19th and 20th Century.
All of this would help 'Being Human' reach the target audience that they are funded to engage.  As a small part of a bigger picture, there are more events taking place throughout England, Scotland and Wales until 25th November that tackle the theme of hope and fear. A theme well suited to the context of Ann-Marie's talk, a theme that leaves you in a state of wonder and curiosity.