Demand for vintage clothing is on the rise, but independent stores in the North East aren't exactly easy to locate.
But after extensive searching, SRNews brings you the best and most varied vintage shops available to the public in the North East at this minute.
1 – Flip
Just a short walk from Newcastle's central station is the home of Newcastle's only vintage American clothing store: Flip.
Importing from America since 1978, the shop sells a huge variety of clothing – both vintage and new – and every piece is unique.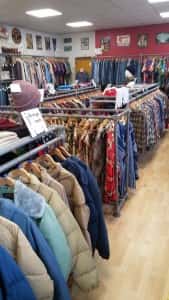 If you want a feel for the kind of clothing the shop sells then head to the website – a full range of previous items sold by the shop can be found. You can also head to one of their many social media outlets to check out what they currently have in store.
Even better yet, just take a trip to the store itself! Manager, Nick Woods, assures that "new stock is imported fairly often", and with clothes ranging from 'around £5-30', you won't be disappointed.
104 Westgate Road, Newcastle upon Tyne, NE1 4AF or visit flipvintage.com
2 – The Yesterday Society
Nestled away inside Newcastle's Grainger Market, The Yesterday Society is a charming vintage boutique stocking a diverse range of men and women's clothing and accessories.
Manager, Rachael Johnson, says "the stock is refreshed weekly, sometimes daily, and can date as far back as the 50s."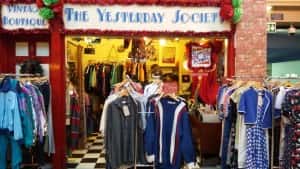 Though the business may only be three years old, the shop is popular with locals and students alike – particularly when it offers 10% student discount!
The shop's Twitter, Facebook and Instagram are updated daily so that shoppers can get a flavour for the kind of products sold, but with stock that is updated so regularly, it'd be foolish not to check out the store in person.
Unit 9, Alley 2, The Grainger Market, Newcastle upon Tyne, NE1 5QG theyesterdaysociety.co.uk
3 – Retro
Situated just off Grey Street, Newcastle, Retro is a hidden gem of vintage clothing. The boutique stocks a large and diverse range of 'Vintage Pieces and Retro styles' that is updated on a weekly basis.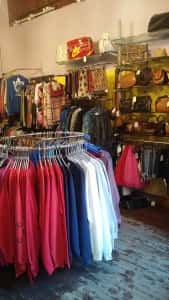 Shop Manager, Joanne Ridley, is proud to say "Retro is Newcastle's longest running vintage boutique", and not only does it sell vintage clothing, but also an array of interesting items, such as 1970s cameras, record players, or whatever gems the boutique manages to find.
Retro does share some of their current stock on their Facebook page, but they also have a very large eBay store if you aren't able to visit the Newcastle store in person (which is recommended!).
2 High Bridge Square, Newcastle upon Tyne, NE1 1EN
4 – Corner 93
Situated on the outskirts of Sunderland City Centre, Corner 93 is a vintage boutique with a difference. Describing itself as a 'pre-loved clothing boutique', the shop sells not only vintage pieces, but high-end, high-street clothing and accessories too.
From Vivienne Westwood to Burberry, and Kurt Geiger to Reiss, there's something for everyone, and at exceptionally reasonable prices for what you're buying – £50 for unworn Vivienne Westwood skirts and trousers.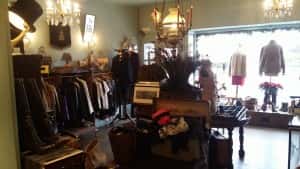 Corner 93 owner, Lyndsey, buys the pieces from members of the public who no longer want them and sells them on.
The boutique's Instagram page is regularly updated to showcase any new stock, but the it is certainly worth a visit in person, if not just to remark at the large selection of antique treasures showcased in the store.
93 Station Road, Fulwell, Sunderland, SA6 9RD corner93.co.uk
5 – Port Independent
Starting out as simply a vintage store on ASOS Marketplace, Port Independent opened a store in Sunderland, and has the title of being the only vintage store in the City Centre. "We're the 3rd or 4th highest selling boutique on ASOS Marketplace at the minute", says Preston Brown, manager of the men's clothing store.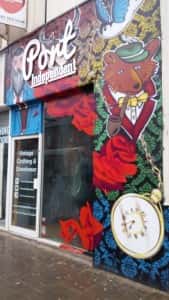 Though Port Independent may only sell menswear, 'Port Girls', PI's sister brand, is available on ASOS' Marketplace; with 721 items currently available online there is more than enough to choose from.
4 St Thomas' St, Sunderland, SR1 1QD portindependent.co.uk
6 – Scarlett Ribbons
Describing their shop as "cheap and cheerful everyday wear", Bronia McNay and Jonny Swift founded their business in Durham City Centre in 2005 and continues to sell a full range of men and women's Vintage and Retro wear today.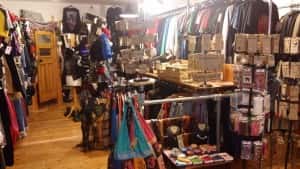 In 2015, the shop launched a website full of retro and vintage clothing to buy online, as well as accessories and home products. Their Instagram is updated regularly with photos of their new stock, but with flannel shirts and vintage jumpers costing only between £5-8, it'd be foolish not to pop in and see what they have on offer.
3 Neville St, Durham DH1 4EY  pennybizarre.co.uk
7 – Velvet Elvis
Part-clothes store, part-café, Velvet Elvis is Durham's one-of-a-kind vintage store. The shop sells 'bespoke jewellery, vintage and retro clothing, and personalised gifts' and houses a craft area with opportunities to try your hand at pottery painting, or view local artist's work.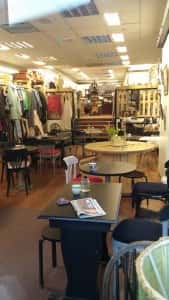 Velvet Elvis' café is situated on the first floor and upholds the shop's retro/vintage theme through its shabby chic furniture and general design.
The café also plays old school records for you to enjoy when indulging in a slice of cake or cup of coffee. Velvet Elvis' Instagram isn't updated as regularly as the other shops mentioned on this list so it's best popping in to check out what they have in stock.
88 North Rd, Durham City, DH14SP
8 – Ding Dong Vintage
Set back just off North Road is Durham's treasure trove vintage shop, Ding Dong. As 'purveyors of ladies and gentleman's clothing from the 1900s-1980s', Ding Dong is home to a large selection of vintage pieces, from clothing and jewellery to shoes and bags.
Fawn Cheyn, managing director, says the shop sells "a range of clothes from every era of the 1900s, including designer brands, and has been in Durham for 10 years", however Fawn has been collecting pieces for many years more. Although many lovely vintage pieces are available in the shop, you do have to be willing to spend some time getting through the organised chaos that is the shop floor!
The shop doesn't use any form of social media to advertise its stock so you'll have to see with your own eyes the mountain of stock Ding Dong has to offer.
45, The Gates, Durham, DH1 4SL.