SR News' Sophie Dishman speaks to Kieron Brady on Alcohol Awareness Week which runs from November 14 to November 20.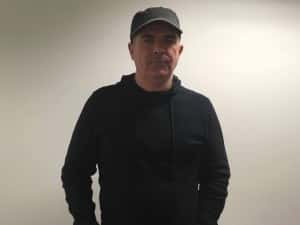 "I'll be an alcoholic to the day I die," says Kieron Brady as he sits in a blank white room at the University of Sunderland, a place where he once volunteered as an Equality Expert. Brady talks about his recovery from alcoholism with confidence. He has been sober for almost seven and a half years, but praises the help he received from fellow sufferers for helping him in his recovery – "my eternal gratitude lies with the people who helped me. I would never have been able to do it using my willpower alone," he says.
Kieron's journey into alcoholism starts on September 17, 1971; the day he was born. The now 45-year-old believes he was pre-disposed to the illness of alcoholism, as he explains: "I suppose that my alcoholism as much as it can be traced back to my birth would also include a family background where alcoholism played a significant part."
Mercifully, many of Kieron's family members don't drink anymore.
The pre-disposition moved with him into his career as a professional footballer, when he started playing as a winger for the Black Cats at the age of 17.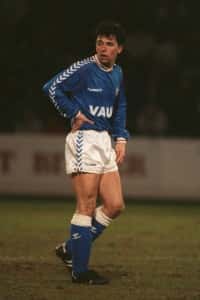 "I was just a child in many ways," Kieron says.
"I certainly drank too much for being a footballer. Often my motivations for a Saturday would revolve around socialising on the Saturday night as much as it would the football match the Saturday afternoon."
The winger's career came to an end five years later, in the summer of 1993. He explains: "When I was attempting to train, I was experiencing a lot of discomfort and pain in my lower right leg all the way down to my foot."
This meant Kieron had to retire early.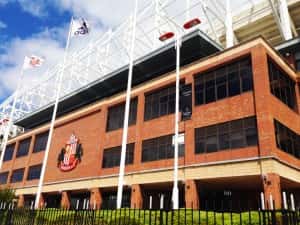 Despite his retirement, Kieron appreciates the five years he did get rather than grieving for the ten or twelve that were taken from him due to his injury.
"People consistently ask me; do you think you became an alcoholic because you had to stop playing football at 21?" Kieron says.
"It would be completely ironic for me to suggest that I'm an alcoholic because this happened when I was eight, or this happened when I was ten or I had to stop playing football when I was 21.
He adds: "There was probably a period in my life where I felt justified in allowing self-pity to dictate that answer but as I've gathered more and more education about alcoholism I've come to terms with the fact that I would've been an alcoholic regardless."
After his retirement from football, Kieron started his venture into anti-discrimination and equality work, beginning his work with Show Racism The Red Card in 2004.
However in 2005, he began to realise his intake was much more excessive than it had been in previous years.
Kieron realised he couldn't simply go out and have three or four drinks – "it was all or nothing," Kieran says.
His downward spiral became intensely problematic around the years of 2005, 2006 and 2007.
He recalls receiving an award and waking up at 6 o'clock the following morning – his first reaction was to drink alcohol.
"I went and got four cans of Stella at about half past six in the morning and sat drinking one can of Stella in a park. In a 12 hour period I was being toasted by the great and the good of the political establishment in the back garden of 10 Downing Street to sitting in a park at half past six in the morning with four cans of lager.
That in many ways, he adds: "is a perfect illustration of just how high and low the life of an alcoholic can be.
"When you wake up at 2 o'clock in the morning and you realise that there's no alcohol in it's traditional form in your household and you contemplate drinking aftershave then you've arrived at a junction in your life I don't think anybody would dispute, where you're going to have to instigate some serious changes in your life.
"If I continued to engage with alcohol my longevity in terms of life was going to be reduced."
Kieron last consumed alcohol on the morning of June 12, 2009.
"I'm not cured of alcoholism but what keeps me distant from the prospect of drinking is the capability and that willingness to help my fellow sufferers," he says.
"Every single alcoholic can stop drinking, it's not every alcoholic that can stay stopped.
"All I have to do is keep distant from a bottle and a hangover."
Kieron adds that he feels lucky that asked for help and got support.
"I personally don't see anything weak about someone saying they need help. I would love to ask the people who were afraid to ask for help what their opinion on the issue [of asking for help as a strength rather than a weakness]… but unfortunately they're all dead – pride came before a funeral."
Kieron's sobriety coincided with the advent of his consultancy CICI Equality.
Further on in his recovery he became a father.
"The undoubted high would be the birth of my son Evan Connolly,"he says, "he would not have entered this world if it wasn't for my sobriety – and that sobriety would not have been in place and sustained in the manner it has been if I hadn't been the recipient of so much help from so many experienced people.
"The birth of a child is something that you think any rational, sane person would appreciate more than anything else but the nature of alcoholism is such that when I was in the midst of the predicament I was caught up in, alcohol mattered more to me than anything or anybody else, Kieran says."
He also got married in New York in 2013 to his then-fiancee Mandy.
"I don't want my son taking away all of the glory from my darling wife!" Kieron adds.
Months on, Kieron became a trustee of Washington Mind.
He says: "It's something I've been doing now for 2, 3 years. I was diagnosed with depression back in 2002 and four years later I was again diagnosed with it, but what sets me apart if you like from the majority who suffer from depression is that mine in many ways was alcohol-induced.
"My recovery from alcoholism and my depression commenced when I was willing to be honest enough and say that I'm not drinking excessively because I'm depressed, I'm depressed because I'm drinking obsessively."
As a result of his recovery, Kieron hasn't suffered from depression ever since.
He adds: "I don't believe that I'm a particularly strong person in a mental or emotional capacity. What I'm trying to get across with that is if I can recover, I believe anyone can.
"I managed to escape in tact and build for myself and my family.
"I just feel strong enough now to cope with whatever life has in store."
Kieron has now relaunched his consultancy as Project Equall with the help of Sunderland marketing consultancy NIMA.
Although it is still in its infancy it has a powerful objective; to educate and empower people around the areas of equality, diversity, hate crime and alcohol issues.
Kieron is now using his capacity as a former Wearside footballer and his experience with alcohol to help others.
"We're hoping to focus on more and more companies not just in the context of equality and diversity, but also with regards to trying to educate their staff around issues to do with alcohol.
"The hope is that we can reach as many people as possible."
Kieron continues: "The acknowledgement that you are an alcoholic will not bring the sky down; it will not bring about massive tsunamis. A lot of people have this perception that an admission of being an alcoholic is something that is beyond them or something that could be cataclysmic. For me it has been the most liberating and rewarding thing that I've ever said.
"What I would be confident in saying is that as long as I feel tomorrow, the next day and the next day after that, the way I do today, then not only will I not drink, I've got no need to drink.
"There's something quite harrowing about a son or a daughter, a husband or a wife, grandparent, brother, sister, having to effectively look at somebody they love dearly and unconditionally committing suicide in stages.
[Alcholism] manages to persuade you that you don't have a life if you don't have alcohol in it and thankfully I've been one of the chosen few if it were who was offered a way out.
"I didn't ask mother nature to put gold dust in my feet and I certainly didn't ask mother nature to give me this toxic twisted thinking that became part of my life for as long as it did but you have to put up with the good and the bad and I'm perfectly content with where I am now."
If you would like to know more about Project Equall you can follow the consultancy on Facebook and Twitter or visit the website.