At 11am on November 11, maroons were fired in Mowbray Park to mark the beginning and end of the two minute silence.
At the 11th hour of the 11th day of the 11th month in 1918, the guns fell silent bringing the Great War to an end. 18,000 men from Sunderland answered the call, 6000 men were killed or wounded.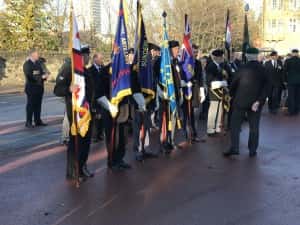 Mayor of Sunderland, Councillor Alan Emerson, said: "This is important for the veterans and the families of the veterans to remember people who've either given their lives or are still serving. It's important to show respect for these people. The Armed Forces, that's vitally important. It's good to see the city's support for these events.
"I think it's important for the younger children to be reminded of the horrors of war and hopefully that when they grow up, we won't be having anymore wars and they'll understand the horrors that can be created."
The Mayor's grandfather also served in the Battle of the Somme and was marked missing in action from the offensive on Day One.
Rifleman Steven Elliot, D Company, 5th Battalion the Royal Regiment of Fusiliers was the bugler for Armistice Day Memorial 2016.
He said: "We're still sacrificing people to wars and the young people need to come and realise what it's for so that past mistakes aren't the mistakes of the future."
James Jameson of Sunderland's RNLI Lifeboats feels that Armistice Day should be remembered by the youths of today. He said: "It's important for the young people of today to remember the sacrifices that most people made in order that they can have the freedom they enjoy today."
On November 13, a Remembrance Day Parade and Ceremony will be held at the War Memorial on Burdon Road along with a pass-in-review by the Museum.