Sunderland bus driver Ian Thompson has raised over £1,000 for Bradley Lowery, the five year old from Blackhall who is fighting neuroblastoma.
Ian Thompson, 35, set up a raffle among the bus drivers in Sunderland and Hartlepool bus depots to raise money to help fund Bradley's treatment. The winners from both depots received a day of paid leave, as Ian will cover their shifts.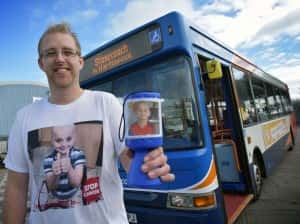 Ian has been following Bradley's fight for a long time over Facebook. It hit home when Bradley was rediagnosed with the cancer as by that time, Ian had a song of his own and had also learnt that his wife went to school with Bradley's parents.
The Lowerys also live in the village next to Ian's so he says it really hit home when the news broke. He adds that this time he "was in a position to do it (fundraising), so decided to do it."
He said the idea for the fundraiser came from a lady in the Sunderland depot who did a similar fundraiser for a different charity and it was really successful amongst the bus drivers. So he decided to do it in both the Sunderland and Hartlepool depots as he was formerly a Hartlepool driver.
Winners of the raffle were Oz McCormack and Dale Crane from the Sunderland and Hartlepool depots respectively. Oz donated her day off to Carol Taylor; a fellow bus driver battling cancer. Dale took his 2-year-old son to a football match at the Hartlepool Football Club.
He will be driving the Sunderland winner's shift on 15 November between 7am and 4pm. He will be wearing a t-shirt with Bradley's face along with a fundraising tin for passengers or staff to donate more to the cause.
The money that has been raised so far is partially from the raffle and he has already collected £500 in donations from passengers when he did Dale's shift in Hartlepool. Which he feels was "really good and really generous."
He will also have his collection tin out for the week starting 14 November.
He said that "every penny does go straight to Bradley's fight."
To find out more about Bradley's Fight.
http://bradleylowerysfight.org.uk/