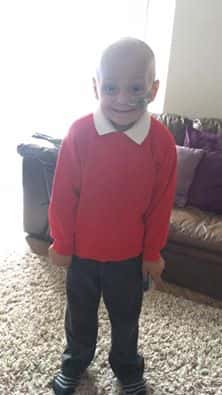 Battling Bradley Lowery has retuned to school after his latest bout of chemotherapy.
The five-year-old spent the afternoon at Blackhall Colliery Primary School with the rest of his Year 1 classmates.
Bradley, from Blackhall, has not been to school since the start of the new school year as he has been too poorly due to treatment for his neuroblastoma.
He was diagnosed with neuroblastoma in 2013, undergoing gruelling chemotherapy and numerous operations. The initial treatment proved to be a success and the brave youngster was declared to be in remission in 2015.
Sadly, the cancer has returned and Bradley's family are now trying to fund potentially life-saving treatment in the USA.
"The fact that he got to have some time with his friends meant the world to him." Gemma Lowery, mum.
The Sunderland fan was given a special chair to celebrate his afternoon which was packed with "fun", according to school secretary Debbie Brown.
Mrs Brown said: "We were all pleased to see him. We miss Bradley so much. It was lovely to have him back in school."
His mum, Gemma Lowery, 33, added: "It was just like a duck to water. He just loved some normality.
"The fact that he got to have some time with his friends meant the world to him.
"It was really emotional. It just brings back everything when everything was normal again. "It was a little bit upsetting that he can't get to do that everyday because he loves it so much."
The visit back to his school was met with delight from his friends. Gemma added: "They were making a fuss over him, gathering around, giving him cuddles."
Bradley is receiving high doses of chemotherapy in the hope he can go to the United States for treatment, meaning the afternoon at school will be a one off visit.
Bradley spent a year in reception while in remission, before he was re-diagnosed with cancer in July this year.
It comes weeks after Bradley's fund reached the £700,000 target after a £200,000 donation from Everton Football Club.
The family are continuing to raise cash for treatment and expenses in the US and the appeal has caught the hearts of people across the region bidding to boost his cause.
To donate, text BRAD02 £1 to 70070.
People can also donate at www.chasethewind.co.uk.