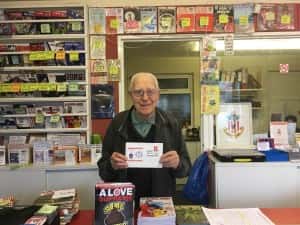 One of Sunderland AFC's most devoted fans is celebrating his 90th birthday. 
George Forster, chairman of the Sunderland Supporters Association, is 90-years-old on October 7.
Having hardly missed a game since 1962, Forster has been chairman of the Association for the past 15 years and has enough memories to fill a book – which he has said he would call 'Dedicated, Yes. Hero, No.'
With a host of achievements under his wing, Forster is refusing to let his age get in his way as he turns 90.
He said: "One of the things I have achieved here was when the 40th anniversary of winning the cup came around, I was made an honorary former player and I got presented by Jimmy Montgomery."
"I've had a marvellous, interesting life and I would like to write a book one day. I am happy with the people we have here, we have a good committee and I'm proud to do what I do.
"I love people, I cannot survive without them and I just enjoy doing what I do because what better job is there than this one?"
Now a life-time season ticket holder, Forster first got involved with the Association, formed in 1965, in the sixties when he ran buses for fans travelling to games.
Since then, thousands of pounds have been raised for Sunderland, with a lot of the money coming from selling merchandise and membership fees.
Forster has been behind a number of fundraising events that saw the Association raise £1,500 for former players, £1,500 for cancer charities and even money for the club.
"Mr Brown wanted goal posts and nets for Washington and I think it came to about £750 and that was an awful lot of money. But since then we have given them stuff for the physio and ground equipment.
"The club also said they didn't have a player of the year trophy so we spent £500 on the trophy and that was marvellous.
"I may be turning 90 but in all my time no-one has been paid here, nobody gets any expenses, we all bring our own meals in. The only thing you get here is a cup of tea and a biscuit."
Chris Thompson, editor of A Love Supreme, had a message for George on his birthday. He said: "Happy Birthday from everyone from A Love Supreme and a genuine thank you for all the work you have done over the years to make supporting Sunderland as pleasant as it can be!
"George lives and breathes SAFC and that extends beyond just supporting the club. He is within the top one per cent of football supporters.
"He always has the best interests of the supporters in mind whenever he does anything and that translates when you speak to him. He is an SAFC legend and an incredible football fan and all round great man."
Happy Birthday, George!