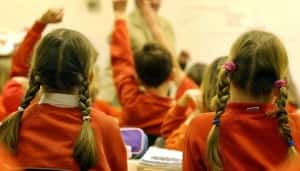 A Sunderland uniform recycling initiative is giving a helping hand to families facing the cost of buying primary school uniforms for the new term.
'One For The Wardrobe' is offering second hand uniforms free of charge to families in the city.
The often almost new uniforms have been donated by parents in Wearside whose children have grown out of them.
Sunderland City Council are leading the project, which has been running for three years through the Sunderland Partnership.
However, the project is delivered by local churches and voluntary groups at community level.
Sunderland City Council portfolio holder for children's services, councillor Louise Farthing said: "The increasing cost of school uniforms increase the pressure on family finances, especially when more than one child has to be kitted out with the average cost of a primary school uniform estimated to cost more than £200.
"Given the speed at which children grow, many uniforms have had very little wear and it makes perfect sense to make them available for someone else to wear in instead.
"Our city is committed to up-cycling and recycling perfectly usable things for people and our community partners to use and reduce their costs, and this local initiative has been a fantastic success helping dozens of children in the city since it was introduced."
There are currently more than 500 items of branded primary school uniform available in good or new condition such as cardigans, sweatshirts, polo shirts and jumpers available free of charge to all parents, with no criteria for eligibility.
Local community organisations, play-groups and charities that may be able to help to distribute items in their area are also being encouraged to get in touch to help in getting the uniform to local neighbourhoods.
Director of the local church and community network Sunderland Connect, Deb Fozzard said: "Latest research suggests that more than half of all parents have bought or received pre-owned school-wear with recycled clothing schemes, swap shops and exchange schemes increasingly started by the parents themselves.
"These days all families face increasing financial pressures including buying school uniforms, and recycling and re-using clothing in this way can only help reduce those pressures.
"A number of schools in Sunderland now have their own system of collecting and distributing uniforms and I would encourage more schools in the city to do so.
"Reducing waste in the city is important for us, and we can do or bit by reusing and recycling goods wherever possible."
For all enquiries please email: Sunderland.partnership@sunderland.gov.uk