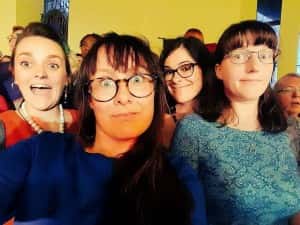 North East musicians are among a group of people who have recorded an unofficial anthem for Team Refugee who are at the Rio Olympics.
Bethany Elen Coyle, from Newcastle, and Sinéad Livingston, from Rookhope, travelled to the All Hallows' Church in Leeds to join more than 200 people from across the country.
The pop up choir learnt and recorded the anthem The World Is Our Song, which was created by Beccy Owen and Boff Whalley, in just three hours.
Community musician, Sinead Livingston said: "It was a great feeling to be involved in something so hopeful and positive and it was great to be with so many other like-minded people.
"When I walked in to the room I was totally overwhelmed by how many people there were. It was staggering really."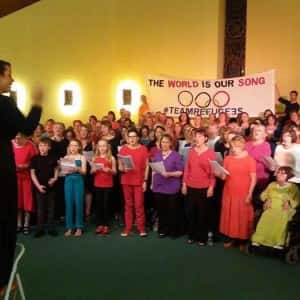 Another community musician, Bethany Elen Coyle who also works alongside trade unions campaigning for regional, national and global issues, added: "Participating in the Pop Up Choir who sang and recorded the anthem for Team Refugees was a wonderful, inspiring and empowering experience.
"The energy, enthusiasm and sense of community created by the event was electric and the music composed by Beccy Owen and Boff Whalley perfectly captures the spirit of the moment and expresses the empathy, solidarity and support the majority feel for Team Refugees and those affected by the wider humanitarian crisis we are currently experiencing.
"I hope this brilliant music will be shared far and wide."
SR News spoke to Beccy Owen, one of the creators of the song, who hopes it can get to Rio.
The profits, raised from sales of the song, will be going to Positive Action for Refugees and Asylum Seekers (PAFRAS).
Tony, from PAFRAS, said: "It is good to know that so many people are welcoming refugees and asylum seekers."
So far, more than £250 has been raised for the cause.
The pop-up choir has been asked to perform at a Hope Not Hate event at the Leeds Art Gallery on September 3, to commemorate MP Jo Cox – who died after she was shot and stabbed in her constituency.
Musician Bethany Elen Coyle, added: "I'm looking forward to performing it again in September. It's such a great song I can't seem to get the out my head – I'm still singing it today!"
You can find out more about the song @WorldIsOurSong and can buy the song here.