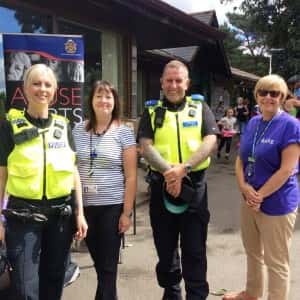 A campaign to raise awareness in North Tyneside about protecting vulnerable adults from abuse and harm has been hailed a success.
A number of events were held throughout the area as part of the third annual Safeguarding Adults for Everyone (SAFE) week.
North Tyneside Council's Safeguarding Adults Team, along with various partners, took part in community events to highlight the issue.
Hundreds of people visited information stands which were on display at North Tyneside General Hospital, North Shields town centre, Segadunum and the Rising Sun Farm, to name just a few.
Several care homes in the area also hosted coffee mornings to raise awareness among residents and their families.
Adults at risk of harm are people over 18 who may be unable to take care of themselves and protect themselves from harm or exploitation because they are physically disabled, have mental health problems, learning difficulties or are frail, elderly or ill.
Councillor Carole Burdis, cabinet member for community engagement, said: "Safeguarding adults is everyone's business.
"All adults have the right to live their lives free from harm and abuse but sadly that doesn't always happen.
"Safeguarding adults is about supporting individuals who are experiencing abuse or neglect to protect themselves from that abuse.
"Events like SAFE week are a good way of raising awareness that helping protect vulnerable adults from abuse and harm is everyone's responsibility and we should all speak out and report any worries we may have.
"This year's campaign has proved another huge success with hundreds of people taking advantage of the information on offer and we are now looking forward to planning for next year."
North Tyneside Council is the lead organisation in safeguarding adults at risk of harm.
They organise SAFE week in conjunction with multi-agency partners from health, police, Newcastle and Northumberland local authorities, as well as a range of voluntary and private providers.
Superintendent Mick Paterson, from Northumbria Police, added: "We are pleased to support our partners in helping to keep people safe in North Tyneside.
"Safeguarding the more vulnerable members of our society is at the heart of what we do.
"At these events our officers have also been helping residents stay safe from crime by giving them advice on how to keep themselves safe and their homes.
"How to make it difficult for burglars to sneak-in and your property to steal. Our advice is always don't make it easy for them – keep it locked and secure."
Abuse can take many forms, including physical, sexual, emotional, psychological, institutional, discriminatory and neglect.
Signs of abuse may include:
Multiple bruising or finger marks
Injuries which cannot be properly explained
Deterioration of health for no apparent reason
Loss of weight
Inappropriate or inadequate clothing
Withdrawal of changes in usual behaviour
An unwillingness to be alone with a particular carer
Unexplained shortage of money
For more information about safeguarding adults you can visit the North Tyneside council website or contact Alison Tombs, Senior Manager Safeguarding and Quality at Alison.tombs@northtyneside.gov.uk.
Referrals should be made to the Adult Social Care Gateway Team on 0191 643 2777.