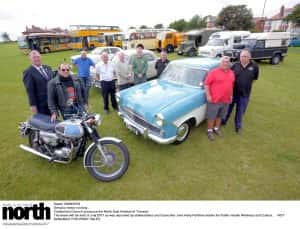 Plans have been unveiled for Sunderland to host a new regional event focussing on transport heritage.
The inaugural event is being planned to bring the North East's transport heritage to life, with vintage buses, traction engines, commercial vehicles and cars expected to be brought together during the weekend of 29-30 July 2017 on the Seaburn sea front.
The event is aiming to fulfil a long held wish of transport enthusiasts who participate in the event – to create a major showcase event, similar to those held in some other part of the country.
Sunderland City Council portfolio holder for public health, wellness and culture, councillor John Kelly, said: "Our region has a phenomenal transport heritage and a huge number of individuals and groups preserving that heritage for future generations.
"But for many years we have lacked the opportunity to bring those elements together to really showcase our transport heritage and provide an opportunity for the public to learn more about it.
"The North East Festival of Transport aims to right that wrong.
"By bringing together vintage buses from yesteryear with the vehicles that kept our heavy industries working and the cars that our parents or grandparents went on holiday in, we intend to create a spectacle that everyone will be able to relate to and enjoy at our wonderful seaside."
A consortium of preservation groups including the North East Bus Preservation Trust, North East Land Sea and Air Museum and Sunderland and District Classic Vehicle Society are leading the organisation with support from Sunderland City Council.
Peter Elliott, chairman of the North East Bus Preservation Trust said: "We, like many other groups, spend a huge amount of time restoring vintage vehicles from the North East and hold our own events for the public.
"The aim of this event is to create a critical mass of interest in all forms of transport heritage to allow us to really tell the story of North East transport."
A spokesperson for Sunderland & District Classic Vehicle Society added: "We are very proud and excited to be involved in this new Transport Festival for the North-East.
"Established in 1996, we have developed into a well-respected club who organise our own classic events, which include our annual shows at Seaburn and twice yearly Ryhope Engines Museum.
"We are looking to make this North East Transport Festival, the biggest classic transport event in the North East."
Organisers are opening entry to the event up for classic vehicle owners and clubs from Yorkshire to the Scottish Borders.
An invitation has also been extended to any transport heritage groups who would like to become involved in the organisation of the event.
More information is available here.