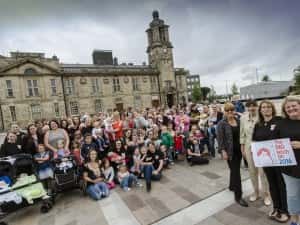 Mothers from across the region gathered in Sunderland on August 5 to celebrate World Breastfeeding Week.
Mums from the Sunderland 'Bosom Buddies' group invited other mums from the North East who breast-feed to join them in Keel Square at 10.30am to take part in the 'World's Big Latch On.'
​The mothers were asked to come along with their families to support the international public awareness raising event.
They celebrated World Breastfeeding Week by simultaneously breastfeeding at exactly 10.30am with mothers, in their respective times zones, across the world.
Sunderland City Council portfolio holder for public health, wellness and culture, councillor John Kelly, portfolio holder for children's services, councillor Louise Farthing and director of public health at Sunderland City Council, Gillian Gibson welcomed the mothers officially to the city.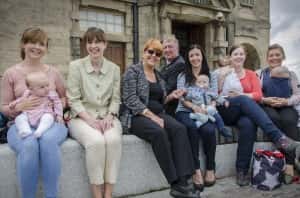 Portfolio Holder for public health, wellness and culture, Cllr John Kelly said: "It was great to see many families and friends come along to support this event and help raise awareness of the many benefits breastfeeding can bring to both mother and baby.
"Breastfeeding is the most natural thing in the world and proven not only to reduce the risk of illnesses including many cancers, but also to increase the bonding process.
"We're working hard with our community health partners to encourage and support more mothers to begin breastfeeding, and I hope [the] event will persuade even more to try."
The international 'Big Latch On' campaign was launched in 2005 by Women's Health Action in New Zealand to promote the proven health, nutritional and psychological benefits of breastfeeding and demonstrate global support for breastfeeding in public.
Last year nearly 15,000 breastfeeding mothers and their babies 'latched on' at 10.30am in 28 countries across the globe, to break the world record for mass participation breast feeding.
Director of public health at Sunderland City Council, Gillian Gibson added: "Many people in our region did not grow up with breastfeeding as the natural choice for feeding a baby.
"It's events like the Big Latch On that can show people what breastfeeding actually looks like, help to support the public perception that breastfeeding your baby is a natural thing to do, and that it is acceptable to feed your baby in public and support women to feel confident to breastfeed in public."
"Mothers should feel supported by their families, friends and communities to feel confident when feeding in public."
You can find out more about Bosom Buddies via their Facebook page.