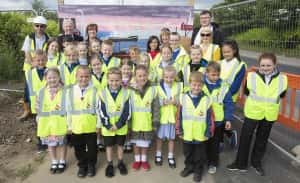 Students from a Sunderland school have created artwork to celebrate the city's new bridge.
Pupils from Castletown Primary School were asked by the team building the city's new bridge how they would like to get involved in the project.
The school was given materials by Farads Construction and Victor Buyck Steel Construction, which has come together to form FVB Joint Venture to build the bridge on behalf of Sunderland City Council.
The company simply asked the children to create something wonderful – and they voted with their paintbrushes.
For the focus of their painting, each class chose a different aspect of heritage and history from in and around Sunderland, creating four different pieces that celebrated shipping and the port, bridges and some of the city's iconic buildings.
Castletown Primary School headteacher Joan Lumsdon said the pupils had risen to the challenge.
"The creativity from the teachers and pupils has astounded me and made me feel very proud. They have really put thought and effort into these paintings," said Ms Lumsdon.
"All of the children are very excited about the new bridge because it's going to be close to school and they can see it develop.
"It's wonderful that we have been able to get involved.
"It's important that children feel a part of changes to their environment, and I think they actually feel that this is their bridge."
Pupil Ella Preston, 11, from Castletown, added: "I love art so it's been great to be involved in this project. Seeing the boards up on display makes me feel proud."
While, Fran Proctor, 11, from Castletown, said: "I have enjoyed learning about the new bridge more than anything else. I can't wait until its open and we can walk across."
The four pieces of art are now on public display on the north side of the construction site.
But Sunderland City Council's deputy leader, councillor Harry Trueman, and the FVB community engagement team never expected to receive such tremendous pieces of art.
"People should really come and have a look at these paintings because they are fantastic," said Cllr Trueman.
"This is such a landmark project for the city – it's wonderful to have young people involved.
"As they grow up, they will always feel a part of it."
FVB's Community Engagement Manager Brigid McGuigan added that the paintings were taking pride of place on the site.
Ms McGuigan said: "We are delighted to have schoolchildren involved in the project because we want to inform them about the new bridge, promote health and safety around building sites, and get young people excited about their local community and the world of construction.
"We didn't know what Castletown Primary School would create with the resources we gave them, but we have been blown away by their enthusiasm and creativity. These paintings are tremendous."
The new bridge is the first bridge to be built over the Wear in Sunderland for more than 40 years.
It will cross the River Wear between Wessington Way in Castletown and European Way in Pallion and is part of the wider strategic transport plan to link the port of Sunderland and city centre with the A19.