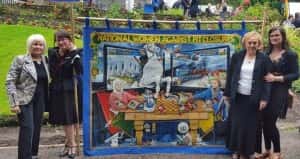 Labour leader Jeremy Corbyn was among hundreds of mourners at the funeral of the secretary of the Durham Miner's Association this morning (Friday, July 29).
Davey Hopper had shared the platform with Mr Corbyn at the Durham Miners' Gala just a week before his death.
The 73-year-old died at his home in East Boldon in South Tyneside and was most notably known for his commitment to left-wing politics.The former miner strongly backed Mr Corbyn to retain control of the Labour party.
Mr Hopper was also heralded for his work with the Miner's Association, which has continued to campaign for former miners and organises the popular gala in the city, one of Europe's biggest trade union events.
The general secretary of the trade union Unite, Len McCluskey paid tribute to Dave Hopper ahead of the service at its headquarters.
Mr McCluskey said Mr Hopper was wise, humble and a "gentle man" beneath his macho exterior.
Mr Corbyn also led tributes, he said on Twitter:
Paying my respects, with the rest of the labour movement, at Davy Hopper's funeral. He was a credit to our movement. https://t.co/MaHvnMKCpB

— Jeremy Corbyn MP (@jeremycorbyn) July 29, 2016
Banners that are paraded through Durham at the gala were carried to the humanist service. Some of those banners were brought to the Miners' Hall in Durham for the humanist service attended by fellow trade unionists and MPs, ex-pitmen and socialists, family and friends.
Bethany Elen Coyle, a musician and socialist activist, said: "Davey Hopper was a revered,  passionate and committed socialist, trade unionist and internationalist.
"The impact and effect of his tireless work will be his legacy – the 150,000 attendees at this year's Durham Miner's Gala is testimont to this.
"He was radical and innovative within his field, striving to make unions more democratic and unifying communities through his politics, campaigning and leadership.
"His contribution towards social justice, international solidarity and socialist causes was unparalleled and I was honoured to close his funeral celebration at Red Hills today by singing 'The Red Flag'. Solidarity forever comrade Davey."
A brass band also played the miners' hymn Gresford as the hearse arrived for the service.
Mr Corbyn spoke at the funeral service, praising the association for carrying on the fight after the last pit closed.
"It would have been very easy at that point for Davey Hopper and many other brilliant, talented people to walk away and do something else but they didn't," he said.
Mr Corbyn added: "I learned a lot from Davey Hopper – he gave me a lot of helpful advice, he recognised that, when you take on a struggle, you get a lot of pressure.
"When you get a lot of pressure, you can either retreat and run away, or you stand up.
"Davey Hopper never retreated, he never ran away."
The Labour leader said he had known Mr Hopper for more than 30 years through the Miners' Strike and the pit closures which followed.
"The association put itself at financial risk to fight for compensation for miners affected by Vibration White Finger and other work-related conditions
"They won billions of compensation which didn't bring the pits back, but did give many people who were suffering a much more comfortable life," Mr Corbyn said.
He added: "Thank you Davey for everything you did in your wonderful life."