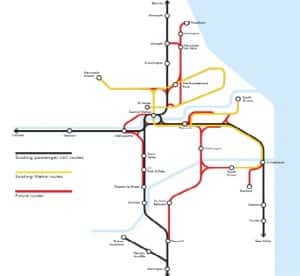 The North East Combined Authority have given the green light to the ambitious plans to expand the Tyne and Wear metro services.
The Metro and Local Rail Strategy identifies a network of disused or under-used rail routes across North East England which could benefit from new or better services, putting whole towns and communities back on the national railway map.
Proposed new metro routes include Peterlee, Team Valley, Metro Centre, Ashington, West Newcastle and Belmont.
The Strategy, approved by the Leadership Board, also sets out the case for more than £1bn of new investment in the existing Metro system over the next 20 years.
The Leadership Board heard that advances in train technology mean a new train fleet could also have potential to operate on lines beyond the current Metro system, opening the way for the expansion of local rail services and better integration.
Cllr Nick Forbes, lead member for Transport on the North East Combined Authority and leader of Newcastle City Council, said:
"We have approved an ambitious strategy for expansion of local rail across our region, tied in with continued investment, development and expansion of the iconic and world-famous Metro system.

"We are building a business case for major investment in Metro and local rail to improve journeys for passengers and provide cleaner, greener and attractive travel choices.

"Local rail brings huge economic and social benefits to the communities it reaches today but we need to extend those benefits into new areas.   To do that it is essential we secure funding for a new fleet of Metro trains, acting as a catalyst for the expansion of local rail and better integration across North East England.

"The well-publicised problems with train reliability on Metro underline how essential it is to bring in a new train fleet.  But we want to look far beyond that immediate goal, to make the most of the greater possibilities to grow all local rail services together as part of the Combined Authority's Our Journey manifesto for transport in the North East."
The strategy identifies the potential to bring disused or little-used rail routes that thread across Northumberland, Durham and Tyne and Wear back to life for local passenger services, providing a starting point for detailed evaluation to see which might deliver the highest benefits from investment, and what the construction challenges would be.
It raises the possibility of putting towns including Ashington, Peterlee and Washington back on the railway map as well as creating new links into business parks such as the Team Valley, Metrocentre, Cobalt and the new International Advanced Manufacturing Plant north of Sunderland.
This includes routes where passenger services could be increased, routes currently used for freight traffic only and somewhere the track has been pulled up but the alignment still exists.