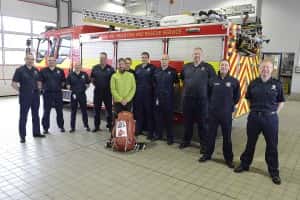 A charity runner, who is aiming to cover 5,000 miles of British coastline, has enjoyed some typical North East hospitality along the way.
Wayne Russell set out from London in September last year to run the entire coast of Britain in memory of his sister Carmel Webb, who died three years ago after a battle with a rare heart condition.
Wayne is originally from Gloucester and has set himself a target of raising £25,000 for the Superhero Foundation.
The charity helps sick children receive treatment currently unavailable on the NHS and provides support for their families.
Mr Russell said: "Despite her terminal illness, my sister Carmel did a huge amount for charity and in the community.
"When she died, instead of getting sad I set up a Facebook group to encourage people to do good deeds.
"I wanted to do something big and, as I had just started running, I thought I could run the coast of Britain."
The 34-year-old is carrying everything he needs in a large rucksack and is surviving on a budget of just £3 a day.
He has struggled to find suitable places to pitch his compact tent.
During his journey he has been put up at several local fire stations along his route.
When Mr Russell's mammoth challenge was brought to the attention of officers at Tyne and Wear Fire and Rescue Service, arrangements were swiftly put in place to find him a bed for the night at Tynemouth Community Fire Station, followed by two nights at Sunderland Central Community Fire Station.
Area Manager John Pratt, Tyne and Wear Fire and Rescue Service, said: "When we heard about Wayne's story, and his unbelievable efforts to raise money for such a worthy cause, we were only too pleased to offer him somewhere safe and warm to help him on his way.
"We wish him all the best and hope he achieves this remarkable feat safe and well, and that he reaches his fundraising target."
Mr Russell added: "The generosity of the fire services has been fantastic, and I am so grateful to them for their wonderful hospitality."
To donate to Wayne's campaign before he finishes his journey in late June, visit here.