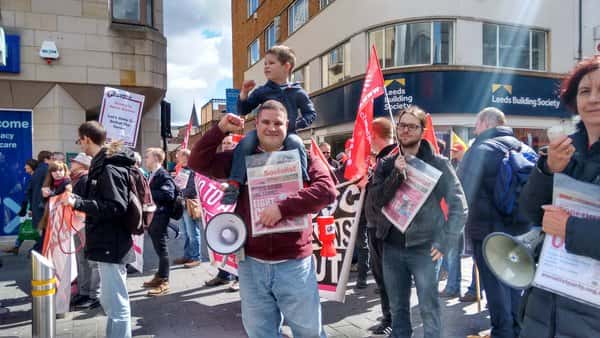 Hundreds of North East demonstrators marched through Newcastle as part of International Workers Day on April 30.
The annual event saw supporters walk from Princess Square to Exhibition Park accompanied by music from the Backworth Colliery Band.
It was organised by the May Day Committee of the Newcastle Trades Union council, including Mollie Brown who was the chair of the rally.
Attendees were able to hear from junior doctor Ellen McCourt as well as Sally Hunt, general secretary of college lecturers' union (UCU).
They also heard from Grahame Morris, Labour MP for Easington, Janice Goodrich, president of the civil servants union (PCS) as well as the editor of the Morning Star, Ben Chacko.
Tony Dowling, a spokesperson for Newcastle Stop the War, attended the march.
He said: "Junior doctors, trade unions and campaigning organisations joined the Tyne and Wear May Day March and Rally in Newcastle on Saturday, ensuring the tradition of demonstrating for "the class demands of the proletariat, and for universal peace" resonated with present day struggles."
The march was also supported by national groups.
Rick Bowler, a university lecturer at the University of Sunderland attended the march and rally.
He said: "I come every year as I think it's important. There's a great deal of pain in the North East for a whole range of communities."
"We're not really taught about this kind of history anymore."
Bethany Elen Coyle, who performed at the event, added: "In these dark times, days like this reaffirm people's power, public strength and instill hope for a brighter future."
You can watch the video of the rally below where you can hear from the Chair of the rally, Mollie Brown.