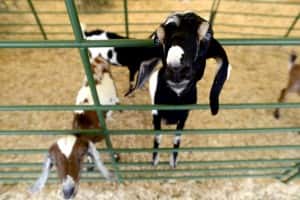 Take a trip to the farm after your lecture, as the University of Sunderland Students Union are set to bring cute farm yard friends to City Campus on May 10. 
Joined by a wide selection of animals, from rabbits and guinea pigs, baby lambs and calves, to mini ponies and micro pigs.
Statistic show that animals are proven stress relievers, so why not take a break from the books and pop along for some quality time with our animal visitors from Riggmoor Farm.
All of Riggmoor Farm animals are used to the routine and they are not stressed out by the travelling, or being on site for a few hours throughout the day, as they have all the essential items that they would have at home with them on site the only difference is there are more people but most of them have been hand reared so are used to close human contact.
The farm handlers are with the animals at all times and should any one of the animals become stressed/ill at any point, Riggmoor ensures that the animals would be removed from the site immediately and the display will discontinue.
Riggmoor Farm has a huge amount of respect for all their animals and at no point are any of the animals used on displays used for meat nor will they be sold on for meat.
Riggmoor Farm carry out their work to the highest of standards strictly adhering to the animal welfare rules and regulations set out by governing bodies such as DEFRA.
Working 27/7 every single day of the year, Riggmoor Farm have spent their lives devoted to the animals that are on site and also their mothers, fathers and other family members.
You can also view a video about the RSPCA here.
For more information about the animals and Riggmoor Farm visit http://www.riggmoorreindeer.co.uk/
Find out more about the Sunderland Students Union Petting Zoo here.